Major John Waller Henson USAF
Buried in St Katherine's Churchyard
In St Katherine's Churchyard there is a grave belonging to a Major of the USAF. Major John Waller Henson along with his wife Iris Motee (nee ?) At the time of his death he was living at 80 The Parkway.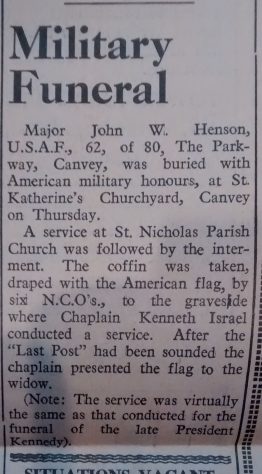 At this moment in time we do not know a lot about Major Henson other than an article in a local paper dated 7th February 1964 that he was buried with American military honours at St Katherines' Churchyard on Thursday the 30th January. There was a service in the new St Nicholas Church. The coffin was draped with the American flag and taken to the graveside by six NCO's where the service was conducted by Chaplain Kenneth Israel.
The clipping notes that the service was virtually the same as that conducted for the funeral of the Late President Kennedy. But as we all know this is normal practice for a military funeral and we have our own similar traditions.
Major Henson's wife Iris died several years later in Jersey, Channel Islands.
When the couple came to Canvey we do not know. What his USAF role was is also unknown but the Bay Museum is currently researching so hopefully we may find out in the future.
If anyone can tell us anything about the couple, are there any family around Canvey? Please let us know.