Our Lady of Canvey and English Martyr
Named after the Beacon Our Lady of Canvey
Taken from 'Chronicles of and Island' by Fred McCave which was published in the Bulletin February 1981.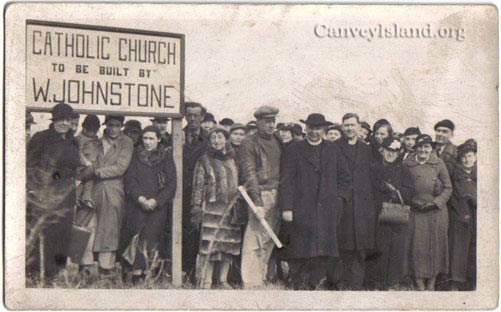 There had been for many years a strong Roman Catholic number. When, in November 1912 a priest took over the Leigh mission it included Canvey. In those days going to Mass could take a whole morning. A walk to the ferry, a trip over (or if the tide was out a walk across the stepping stones) and then a train from Benfleet, plus the whole, expedition in reverse when returning.
Arrangements were made to hold Mass at the home of Mr. Levi (a Jew) and his wife (a Roman Catholic). Eventually Mr. Levi became a Catholic and his two sons Jesuits. They built Father (later Canon) Francis W. Gilbert (1917-1952, Parish Priest of our Lady of Lourdes Leigh) a wooden hut in their garden and he said his weekday Mass on the dressing table. Later Mass was said in other Island homes, including that of Dr. Williams M. Corbett.
In September, 1930 Islanders wrote to the Bishop asking for a local church. A site was generously given in Long Road by Mr. A.M. Clark. The late Mr E.E. Lawrence, designed an outstanding building, steel framed, with brick walls and with a roof of green, glazed tiles. It seated 400. On March 12, 1937 Father Gilbert blessed the ground sprinkled it with holy water and cut the first sod. The building was opened on Whit Monday, 1938. It was serviced from Leigh until Father John Watson took over after the war in 1947.
In his trust deed Father Gilbert left £1,000 for the erection of a church and a presbytery (which has been built) at Canvey. The name of the church – Our Lady of Canvey and the English Martyr – is derived from a beacon which was called Our Lady of Canvey. Father Gilbert, who had known the Island back in the 80's, had originally decided to dedicate it to St. John Fisher and St. Thomas More. Instead he decided on the local link.
~~~~~~~~~~~~~~~~~~~~~~~~~~~~~~~~~~~~~~~~~~~~~~~~~~~~~~~~