Convent Hostel Appeal
Opened in 1929
Hostel of the Good Shepherd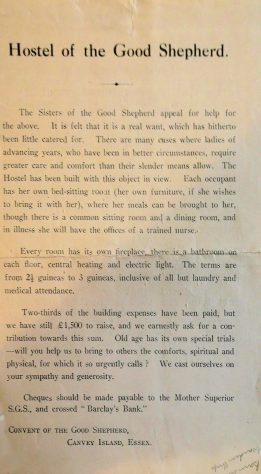 The Sisters of the Good Shepherd appeal for help for the above. It is felt that it is a real want, which has hitherto been little catered for. There are many cases where ladies of advancing years, who have been in better circumstances, require greater care and comfort than their slender means allow. The Hostel has been built with this object in view. Each occupant has her own bed-sitting room (her own furniture, if she wishes to bring it with her), where her meals can be brought to her, though there is a common sitting room and a dining room, and in illness she will have the offices of a trained nurse.
Every room has its own fireplace, there is a bathroom on each floor, central heating and electric light. The terms are from 2 ½ guineas to 3 guineas, inclusive of all but laundry and medical attendance.
Two-thirds of the building expenses have been paid, but we have still £1,500 to raise, and we earnestly ask for a con­tribution towards this sum. Old age has its own special trials —will you help us to bring to others the comforts, spiritual and physical, for which it so urgently calls? We cast ourselves on your sympathy and generosity.
Cheques should be made payable to the Mother Superior S.G.S., and crossed "Barclay's Bank."
Convent of the Good Shepherd,
Canvey Island, Essex.