Let Me Introduce You To Catherine Cheeper
Foundress Mother Superior Janet Mary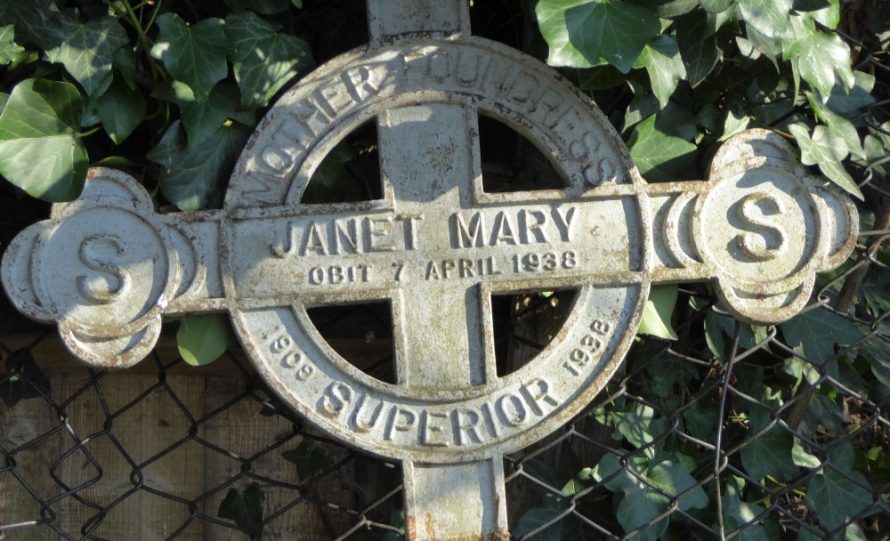 Let me introduce you to Catherine Lisabel Jane Cheeper or as we previously knew her the Foundress and Mother Superior Janet Mary of the Society of the Good Shepherd, Canvey Island.
It has been a frustrating task trying to identify a lady when you had no idea what her given name was. But I like a challenge and on this occasion my tenacity paid off and there she was hiding in plain sight. Both myself and Sister Barbara, a Sister of Mercy, who had previously contacted me, have been searching online for any hint of the names from the cemetery at the old convent. I had given up hope of finding anything as all we kept getting was thousands of names and no way to whittle them down.
One last go and I found the 1911 census for the Society of the Good Shepherd in Walthamstow but the Mother Superior was not the one I was looking for and none of the names rang any bells until I saw who had signed the census. None other than Mother Superior Janet Mary. But how comes she is signing and not the Mother Superior at the top of the list. Then I spotted it (I should have gone to Specsavers) beside her name were the initials and surname of the Mother Superior at the top of the list. I had found what I was looking for, her given name, Catherine Lisabel Jane Cheeper. Once this was found it was a much easier task to find out about her life.


Catherine was born in Gravesend, Kent and was baptised on the 19th July 1860 at St James in Gravesend. Her parents were Anthony Jacques and Catherine Ann Cheeper. Her father seems to have been a traveller to a publisher and was born in London. Early census shows the family in various locations from Cheshire to Yorkshire. The 1881 census has Catherine living at a cousins home in Hackney, London where her occupation is stated as Governess.
Unfortunately I have yet to find her in the 1901 census but in the 1891 census, then aged 30 Catherine was a Sister of Mercy at St Saviours Priory in Great Cambridge Road, Shoreditch.
Update: Found Sister Janet Mary in the 1901 census. She was in Lambeth at the St Annes Mission as a Sister Of Charity. She is the Head and she is assisted by Sisters Agnes and Margaret H C Thomson and also Patricia G C Thomson who were with her in Walthamstow in the 1911 census. Sister Agnes was mention in her Probate records.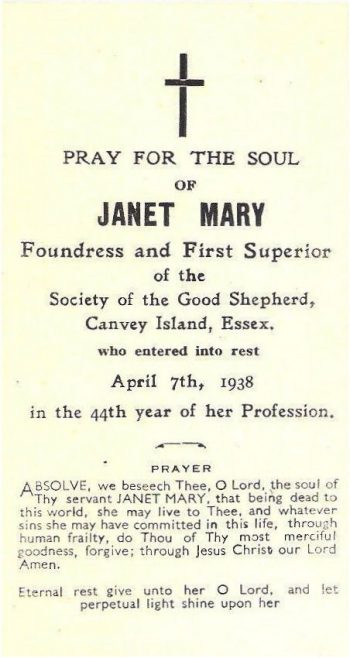 St Saviour's Priory is an autonomous religious house within a movement called the Society of St Margaret. It was founded by Revd. Dr John Mason Neale (one of the key figures of the 19th century Anglo-Catholic movement), in 1855, as an order of women in the Church of England dedicated to nursing the sick. The original accommodation building of 1887-8, by C.H.M. Milcham was known as the Mother Kate Home after a former nun, and was demolished in the 1970s.
This seems to have set Catherine on the road she was to follow leading her eventually to Canvey Island. It would be great if I could find her in the intervening years during which time she became involved with the Society of the Good Shepherd. By the time she first appears in records regarding Canvey it is 1910 where the following is lodged at the Essex Record Office.
Building Plan
: Bungalow,
Jaar Road
Rev. Mother Superior, Society of the Good Shepherd, Walthamstow (Owner)
Alfred G. Sidwell, architect, Leigh Hill, Leigh-on-Sea (Architect)
A. Vallance, Leigh Beck, Canvey (Builder)
Approved 1910
Not a lot to go by and no idea where Jaar Road was, or is that a misspelling.
Martin Lepley also found details as follows:- Poor Rate Books (Later part of 1910). There was at least a house owned by group of Society of Good Shepherd on the Island in the Oysterfleet Estate.
We also recently found the following dated 1911regarding a Rest Home:- On Thursday the Bishop of Barking paid a visit to Canvey Island for the purpose of dedicating a House of Rest which has been erected there in connection with the Society of The Good Shepherd of Walthamstow.
Where we had originally thought the Convent had been set up on Canvey nearer 1920 we can now see this is ten years earlier.
Looking through the Newspaper Archives I found many adverts placed by Mother Superior Janet Mary for homes and flats in different parts of the country including one for a flat at the Convent on Canvey.


Catherine died on the 7th April 1938 at the Convent of the Good Shepherd and her probate was proved on the 7th July where she left £25.
The research will continue and any additional information will be added in due course.
More can be read about  Catherine and her family here