Sister Mary Fidelia, Anchoress
aka Mary Elizabeth Bryan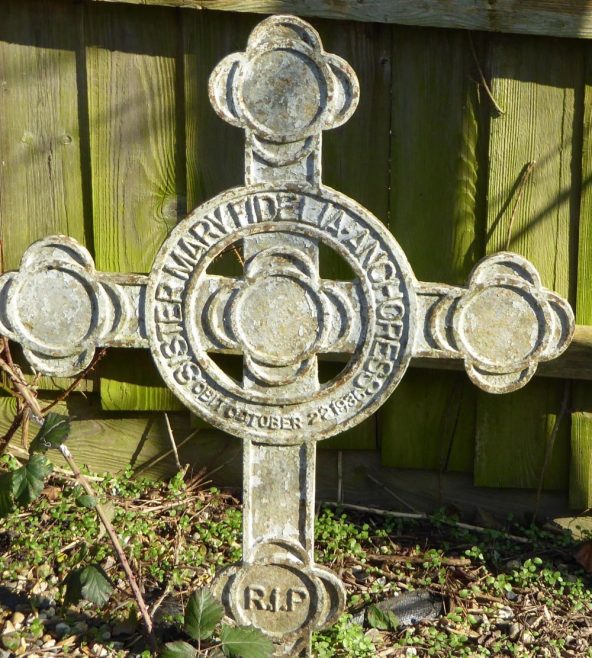 Mary Elizabeth Bryan (Sister Mary Fidelia) was born in 1872 in Haigh, Lancashire to Rev. William B and Elizabeth Bryan. Rev Bryan was vicar of Haigh and Aspull from c1870, he died in 1886. He left a wife, one son and eight daughters.
Mary was one of the younger girls. The family has not been found in the 1891 census so we do not know when Mary entered a convent but we have found her in the 1901 census.
In 1901 she was a nun at St Mary's Home for Penitents in Wantage.
The 1911 census shows Mary as Sister Mary Fidelia, Sister in Charge at St Dunstans, Plymouth. St Dunstan's Abbey and school belonged to the Community of St Mary the Virgin, Wantage.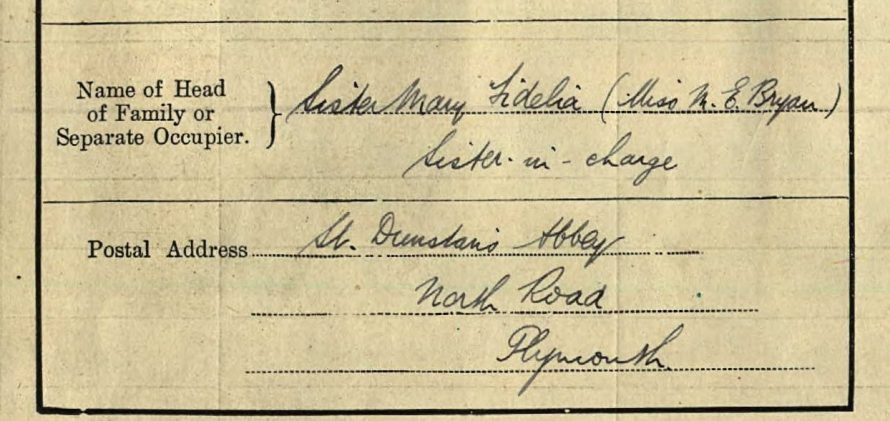 We have no idea how or when her connection with Mother Superior Janet Mary and the Convent of The Good Shepherd on Canvey happened but it obviously did as she was buried in 1936 with the other sisters on the site.
Update:
Information from Dr Peta Dunston:-
Mary E Bryan (1872-1936) was Sister Mary Fidelia CSMV in the Community of St Mary the Virgin, Wantage. The Wantage sisters grow to be the largest of Anglican women's orders with houses in several continents at their height in numbers. CSMV were an apostolic order. They took over the convent and school in Plymouth from another defunct order and you have found MF as the local superior there in 1911. 
After the First World War, Mary Fidelia felt a call to a life of prayer as a hermit. At the time, this was not something an apostolic order would see as 'valid' and so CSMV sent her for periods to contemplative communities. But these could not satisfy her sense of wanting to be an anchoress. So eventually in the 1920s she left her community though remaining in vows, which were held by a bishop. She was out under the spiritual direction of Fr William Sirr, the founder of Glasshampton Monastery (now a Franciscan friary) in Worcestershire. So for quite a time she lived in that county to be near him. However, she disappeared from view in the mid-1930s with sources saying she was in poor health but no clue as to where she went. Fr William himself became ill in 1935, left his monastery for good in 1936 and died on Easter Day 1937. 
Your research now helps to fill in the picture. It seems Mary Fidelia was taken in by the SGS sisters and cared for in her ill-health until her death at 64 in 1936. And buried in their small graveyard. although she was not ever a member of SGS. She lived clearly 'alongside'. I am so glad to know where she ended her days.