Sister Scholastica
AKA Clarissa Jeane Baines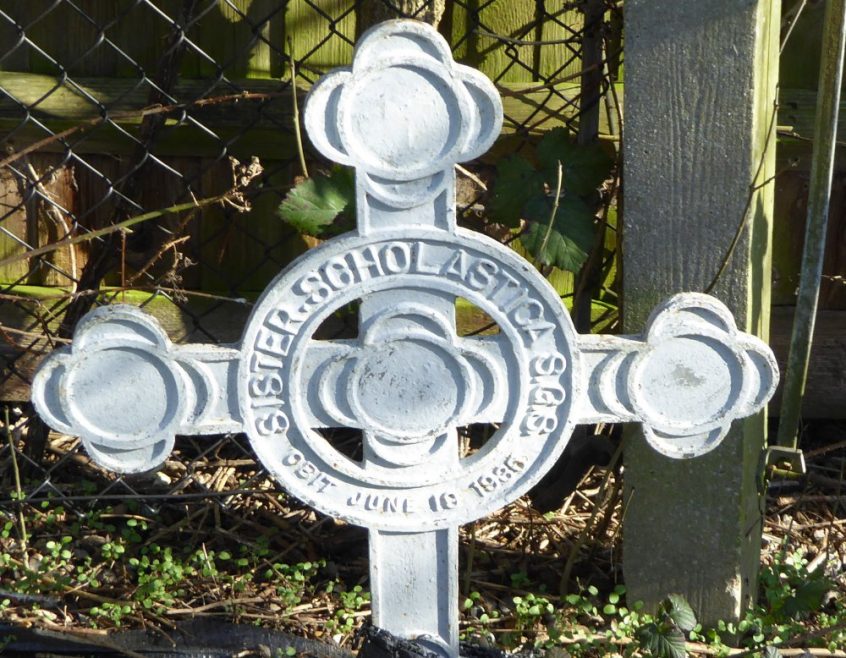 Sister Schalastica's given name was Clarissa Jeane Baines according to her burial records and she was 57 years old which would make her birth c1878. We can find no record of a Clarissa Jeane Baines anywhere in the records so far but there is a Clarissa Jessie Baines born to Joseph and Judith Baines in Desborough in Northamptonshire. She shows up in the census as Clarissa J Baines and her occupation as a teacher is noted.  Jeane and Jessie could well be the same person easy to transcribe incorrectly and the fact she was a teacher also makes it more likely it is the same person.  Also to note is that Judith Baines died in 1916 and Joseph remarried in 1917. This could well have hastened Clarissa's move into a religious calling.
Some useful information came from Dr Peta Dunston in Cambridge:-
Sister Scholastica is a more difficult person to discover. You may know
that the first Anglican community at Malling Abbey became Roman Catholic
and went to Talacre and is now at Curzon Park. Less well know is that a
couple of sisters did not agree with the move to Roman Catholicism. Two
founded a new community called the Community of St Mary and St
Scholastica (CSMS) based at Plaxted. A few other women did join them and
one of those became Sister Scholastica CSMS – but I don't know her
secular name. The CSMS records have not survived as far as I am aware.
When the group dwindled to three, none of whom were well, Scholastica
decided to apply to another community. SGS took pity on her and admitted
her into a trial period with them on 31 October 1935. On 6 April 1936
the community elected to have her formally transfer her vows. However,
she was already too unwell to do this in a formal ceremony. She died on
19 June 1936 aged 57. Nowhere in the surviving SGS archive material did
anyone record her secular name or when she was professed in CSMS. So
I've never been able to establish exactly who she was.
We were lucky that at our recent visit to Douai Abbey, where the records of the Society of the Good Shepherd were housed we came across the burial records and there was her name. According to her death certificate she died from Cancer. No fathers name or his occupation was listed on the certificate, which would have helped to confirm if we have the correct person. Sister Scholastica was buried in the small cemetery at the Convent on the 22nd of June.