Canvey Island
Essex Herald 1874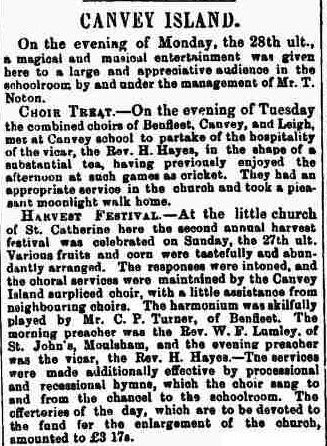 On the evening of Monday, the 28th ult, a magical and musical entertainment was given here to a large end appreciative audience in the schoolroom by and under the management of Mr. T. Noton,
Choir Treat—On the evening of Tuesday the combined choirs of Benfleet, Canvey, and Leigh, met at Canvey school to partake of the hospitality of the vicar, the Rev. H. Hayes, in the shape of a substantial tea, having previously enjoyed the afternoon at such games as cricket. They had an appropriate service in the church and took a pleasant moonlight walk home.
Harvest Festival.—At the little church of St. Catherine here the second annual harvest festival was celebrated on Sunday, the 27th ult. Various fruits and corn were tastefully and abundantly arranged. The responses were intoned, and tbe choral services were maintained by the Canvey Island surplice choir, with a little assistance from neighbouring choirs. The harmonium was skilfully played by Mr. C. P. Turner, of Benfleet. The morning preacher was the Rev. W. F. Lumley, of St. John'a. Moulsham, and the evening preacher was the vicar, the Rev. H. Hayes.—The services were made additionally effective by processional and recessional hymns, which the choir sang to and from the chancel to the schoolroom. The offertories of the day, which are to be devoted to the fund far the enlargement of the church, amounted to £3 17s.