Swift's Hotel??
was the Kynoch Hotel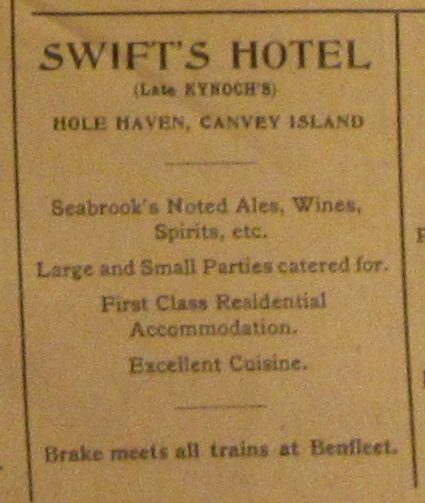 In Kelly's directory in 1920 the Kynoch Hotel was still its name, the proprietor was Edward Swift.
According to Martin Lepley 'the SWIFT family acquired Kynoch's Hotel, Brick House Farm, and the Vicarage in 1919. In 1920 there appears to be some "additions" added to the Hotel (I don't know what these were). They leave 1923 going to Bull Hotel, Wrotham.'
The Swift family confirm Irene Swift was born in 1919 at the Bull Hotel, Wrotham, one of her grandfather's many licensed premises, as was her brother, Ted, two years previously in 1917 and later,in 1922, her sister Betty. From what Irene said, the family never lived at the Kynoch Hotel.
So it appears Edward Swift bought the Kynoch c1919 to add to his 'many licensed premises'. He tried to change the name to Swift's as can be seen from this advert and a similar one that appeared in 1921 and 1922. But it soon reverted back to Kynoch or knowing Canvey Islanders it probably never really changed.