The End of a Family Saga
Claxtons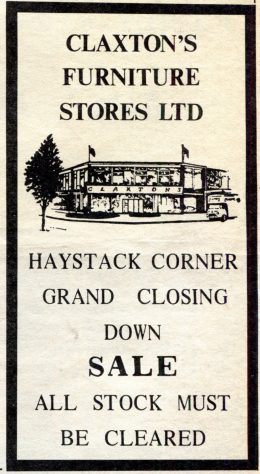 For half-a-century the family firm of Claxton's has furnished local homes, carpeted them and removed them. Now they are to remove themselves.
Shortly the largest furniture showrooms on Canvey, at The Haystack Corner, will close down. Now they are holding a bargain sale, as advertised in The Islander. The firm was founded by the late Mr. Allan Claxton, whose father had run a furniture store in Benfleet.
The Island firm comm­enced trading in premises in Knightswick Road where they were for many years. For a time another branch was in operation in Yamburg Road, at its junction with the High Street.
Despite the trials and tribulations of the war and post-war years the firm continued to expand, be­coming a limited company in 1958 and then providing Canvey with magnificent showrooms in the shopping centre at Furtherwick.
Over the years they have become a household word serving generations of people. First the newly-wed couples and then as their customers' families grew up their children too. Their premises came to be closely associated with Canvey and people used to say "I'll see you by Claxtons".
Now – commercial life has become a different ballgame and soon the furniture firm of Claxtons will become another leg­end in the history of an Island.