We have recently been looking at information about Concord House and it's residents. We have now filled in another gap with Edmund J P Askew.
Concord House was built about 1909 the location was more or less opposite the entrance to Concord beach. An impressive building. It was in the ownership of Charles and Lizzie Constable from 1914-20. They sold it to W. French (William). In 1926 it belonged to his wife S French (Selena 'Madam' French of the Haystack). Sometime late 20s-early 30s it was a convalescence home for sick London children. In 1929 it was a hotel run by Edmund Askew according to Kelly's Directory for that year. The 1939 register shows it as vacant.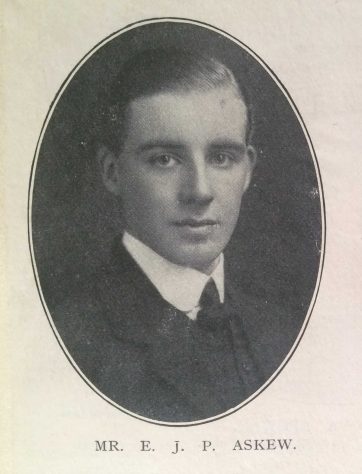 Edmund Joycelyn Percy Askew was born on the 10th August 1887 at Greystoke, Cumberland second son to Rev Edmund Adam Askew, Rector of Greystoke (as was his father before him) and his wife Mary. The Askew family were landed gentry.
At thirteen we find Edmund at Aysgarth School in Newton-le-Willows in Yorkshire.
The school was opened in 1877 by the Reverend Clement Hales to prepare boys for a secondary school education. In 1890, the school moved to newly built premises costing £20,000 in the village of Newton-le-Willows but retained the name of Aysgarth School..
1911 sees Edmund visiting Carlton Hall in Cumberland, another visitor was his future wife Teresa Reay daughter of Col. Reay of St Johns. Hollington, Sussex. The couple were married in Battle, Sussex in 1912. Soon after their marriage the couple must have gone to Canada. There are several arrivals and departures but nothing for 1912 but in a later entry Edmund stated the family had been to Canada previously from 1911-1914. In 1914 the couple returned to the UK via a ship from New York, we know they were in the UK for the birth of their daughter in 1915.  As well as stating about their previous residency in Canada, Edmund said he had been in the military. We can confirm he had been a Captain in the 37th Div Royal Field Artillery 1914-1920. But by 1919 they again arrived in Canada. He had previously been and was again going to be a farmer in Canada.
1922 again saw an arrival back to the UK this time just his wife and daughter. Then in 1924 she went back to Canada without their daughter 'to join her husband'. Was this the beginning of the end of the relationship? Because in 1926 Edmund returned to the UK alone. The family home in the UK was in Hollington, Sussex where his wife came from and where he returned to in 1926 perhaps to reunite with his daughter. He divorced his wife in 1927 he married Frances Louise Connor (O'Conner) daughter of James and Keturah in 1928 in Essex – the Rochford District.
Frances was an Officer in the WRNS for a while based in Ireland during WW1.
The couple are living on Canvey at Concord House in the 1929 Electoral Roll along with Frances' mother Keturah Thirza O'Conner and in the 1929 Kelly's Directory it states: Concord Private Hotel (Edmond. J. Askew, propr.). Shell beach.
How long they were on the island we do not know by the time we next find the couple in the 1939 register they are in Yorkshire. Perhaps in time we will find out more.
He died in Wales in 1945 and is buried at Greystoke in the family vault.