The fifth year school leavers, taken in 1989/90. (this would be year 11 today) They would take the photos of each House's fifth year and these would be displayed on the walls of the House Leaders office.  There would have been a photo taken of the school leavers from Houghton House and Morgan House also.
I think it was taken in the Dinning Room can anyone confirm.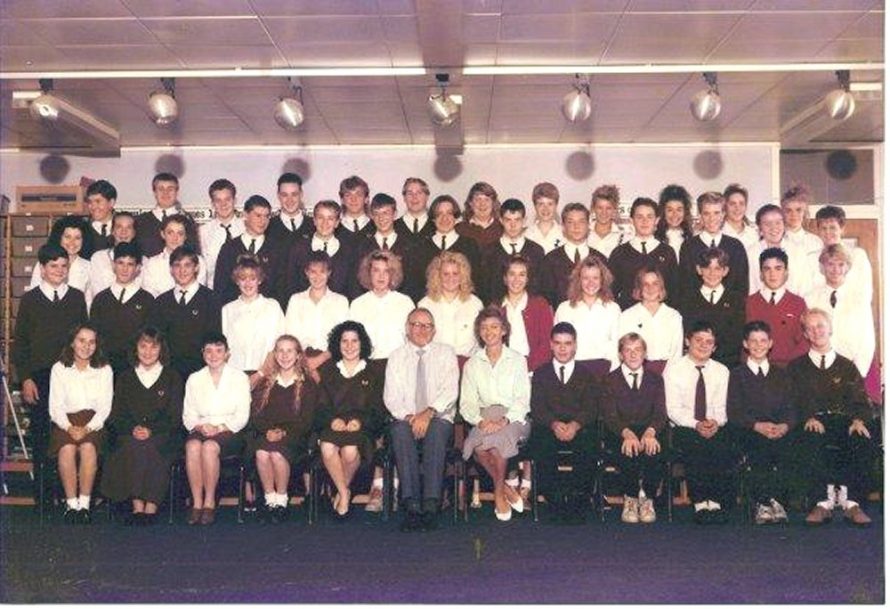 top row (left to right)
Paul Bagley, Nicolas Wisbey, don't know, Terry Watson, Matt Norris,  Glen Collins, Kathleen Mcdonagh, Nicola Hurst, Nicola Murray, Karley Finn, Suzanne Wilkins, Stacey Aicken
second row (left to right)
Anna Bailey, Sarah Harrison, Kelly Skates, Adam Reed, Matthew Carless, Ian Mayhew, Clive Cheese, Darren Wagner, don't know, don't know, Mark Setters, Angela Harding, Louise Welch
third row
Philip (can't remember surname), don't know, don't know, don't know, Anna Bugden, Lisa Pearson, Samantha Warr, Clare Cox, don't know, Danielle Binks, Simon Curtis, Steven Wilkins, Christian Speller
front row
Lesley Penn, don't know, Tanya Day, Donna Watling, Dawn Shrimpton, Mr Mabbutt, Mrs Clayton, don't know, Lee Williams, Matthew Hutt, don't know and then last but not least Dale Martin.
Thanks to Tanya Day for the photograph and thanks to Lisa Pearson for helping Lesley Penn name all these people.
Can you fill in the gaps? If so please comment below.