Trolls
A Musical written by Peter Skellern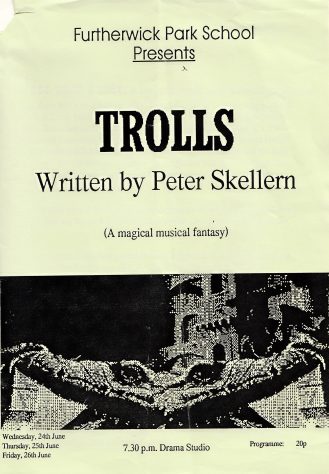 A musical staged by Furtherwick Park School in 1992 on Wednesday 24th, Thursday 25th and Friday 26th June at 7.30 pm. Martin Clark wrote a review of it in the Furtherwick Park News.
During the last week of June we were pleased to present a small scale musical called Troll which was written by Peter Skellern. The action for the storyline is centred around the Troll village of Tring and tells the tale of a Troll King called King Smee, who likes good food and young girls. He hopes to marry pretty Bleeta Drong but to everyone's dismay, Snick, the wicked goblin kidnaps Bleeta. It is now up to the hero of our story, Droople, to rescue, which he inevitably does, and to secure Bleeta's hand in marriage.
The successful and enjoyable performances involved pupils in Years 7,8 and 9 and also the Arts and Drama departments. This was the first performance to be held in the recently refurbished Drama Studio and gave the pupils the experience of working in a more intimate atmosphere.
I take this opportunity to thank all who assisted me in the production, without whom it would not have been possible to stage.
Cast list: King Smee – Michael Kavanagh, Bishop Snod – Jonathan Rust, General Screed – Danny Scott, Lady Screed – Kathryn Chasmer, Lord Drong – Richard Laley, Lady Drong – Dionne Nastri, Gluck the Wise – Michael Finch, Droople Screed – Peter Cooper, Bleeta Drong – Joanne Campbell, Snick – Chris Lane, Nuffin Elf – Joe Buckfield, Ploo – Craig Kellard, Flid – Jay Payne, Gluck's assistants – Katie Warren, Joanne Deacon, Michelle Woodcock. Blub – Nicola Short. The Army – Clair Cooper, Leanne Watson, Clair Connor, Leila Poole, Lewis Window, Justin Townsend, David Heales. The Villagers – Toni Sawkins, Melanie Clarke, Kerry Sparkes, Catherine Worboys, Suzanne Cain, Carla Smith.
Courtesy of Canvey Bus Museum
Courtesy of Canvey Bus Museum