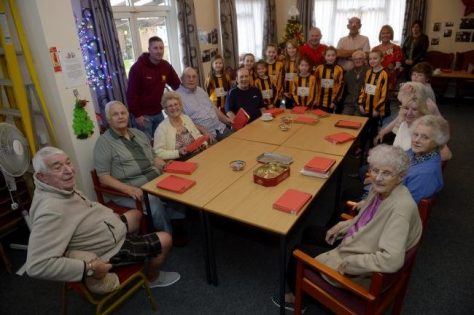 Members of a youth football club on Canvey have been busy bringing festive cheer to elderly islanders.
Residents at Sweetbriar Lodge, in Link Road, a sheltered housing complex, were treated to a visit from ten members of the Island Girls Football Club.
The youngsters, from the under ten and under 11 teams, handed out presents and cards, and sung carols with 20 residents.
They also shared stories and put on a dance performance.
Peter May, vice-chairman of the football club, said he was delighted with how the visit went yesterday. He added: "It was lovely to see how much everybody got out of it.
We had everything from Christmas songs to break dancing.
"It's not just about the football with our club. We also care a lot about the community. Visits to the lodge are something we do every year, both at Christmas and Easter.
"Lots of families have different generations alive, and there's always that special bond between children and their grandparents.
"Outside of that, there's a bit more of a gap in society I think.
That wasn't the case yesterday.
"The girls have actually been asking when they'll be able to do this again, they enjoyed it that much."
The council-run facility provides 40 one-bedroom and studio flats for elderly residents on the island.
Sue Evans, sheltered housing and community officer at Sweetbriar, said: "To see two different generations come together like that is really moving and it wasalovely thing to be involved with.
"We have a mixture of tenants here really. Some are independent and some require support from carers.
"A lot of them will be away over Christmas with family.
Sadly there are some who don't have family. That's what was great about having the kids come to visit, everybody was included and that is really important.
"They really appreciated having that time with them, and the players are welcome to come back any time."