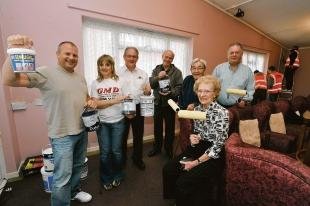 It was truly a case of changing rooms as a community came together to spruce up a Canvey care home.
Local firms rallied to a councillor's call and donated carpets and paint to give Sweetbriars Lodge, in Link Road, a makeover.
A special team of decorators was called in, too, with the probation service providing ex-offenders on its community payback scheme to do the hard work.
Canvey Island Independent councillor Peter May put the plan together after he was left shocked by the state of the social room and took matters into his own hands.
Mr May said: "It really needed something done "They had a bit of a flood over here and the carpet has been a mess ever since.
"It's like a little community here and it's nice to be able to give something back to the residents."
The redecoration is being funded by local firms GMD Hardware and Mr Carpets, both based in Canvey High Street, who donated £1,500 of materials between them.
Tony Stovell, who owns Mr Carpets, said: "I was pleased to be able to help.
"When I saw the state of the floor in here, I couldn't believe nothing had been done before."
The kind-hearted gesture has gone down well with Sweetbriar Lodge's residents.
Danny Constable, 71, is delighted with the work.
He said: "It's great something has finally been done. Everyone can't wait to see the finished results.
"I can't understand why the council hasn't done something itself, but I suppose we should be grateful for the charity of local people.