Estuary Festival 2025 starts here!
Canvey Wick July 2023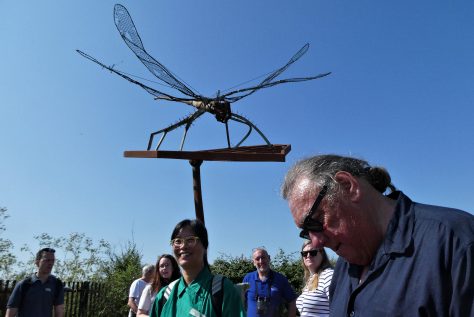 Last Friday I was invited to join a sensory walk on the Canvey Wick Nature Reserve with artists Taey Iohe, Youngsook Choi and Emma Mills along with a small group of local people to discuss Canvey, the Thames Estuary and enjoy some creative activities exploring the more-than-human world. Also in attendance was friend and local celebrity Chris Fenwick, manager of Dr Feelgood.
The Canvey Island artist walk was produced by Estuary Festival in partnership with Metal funded by the Essex County Council Arts and Cultural Fund. We were told Estuary Festival 2025 starts here. No Pressure!
What a beautiful day it was too. Very nice bunch of people who all offered to come to my aid if I got stuck on my mobility scooter but secretly I think they wanted to have a go on it.
Mark from RSPB talked about the environment and how diverse the area is particularly for bees and other insects and animals. Others talked about the Thames and the damage done through dredging. We could not talk about the island without mention of the flood and the after-effects both to the island and its people. On a lighter note Chris Fenwick told them about Fred Dibnah and The Great Canvey Island Chimney Disaster which after all happened more or less where we were sitting and I was able to put them onto the song we have about it on the archive. You can click on the link above to hear it for yourselves. They then played it for everyone to hear and we had a good laugh.
Lots of useful contacts were made as we got to know each other and it was almost a shame when we had to go home.
Thank you for the invite.