Canvey Island Flood Exhibition
January 30th 2022
On the 30th January the Canvey Community Archive presented a flood exhibition at St Nicholas Church Hall to remember the victims of the flood on the 69th anniversary of the great flood of the 31st January/1st February 1953.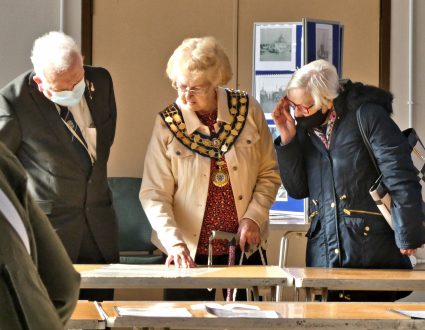 The event was very well attended by members of the public of all ages. Pat Haunts, Mayor of Castle Point, Rebecca Harris MP and Ray Howard MBE were among our VIPs. Everyone was very pleased with the exhibition, which at one point was in danger of being called off because of Covid, but we were lucky it was able to go ahead, with some restrictions. We could not exhibit as much as we would have liked to, and keep people distanced, hopefully next year for the 70th anniversary things will be different and we will be able to do our film show and have exhibits from the Environment Agency and our friends at The Dutch Flood Museum. We were, on the day, passed a large bundle of newspapers from the time, they will be sorted, copied and put in protective display files ready for the 70th anniversary.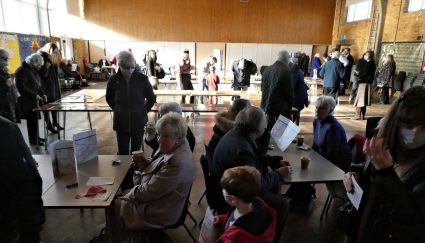 It is obvious from the number of people who attended that the subject is still very important on Canvey Island. There are fewer and fewer adults that remember that night which makes it that much more important that the photos, documents, papers and people's stories are documented for the future. We have over the years met or corresponded with many who were affected by the flood. They willingly passed on their stories to us, some of them felt not only that the stories needed to be told but it helped them to, at last, get closure. Now sadly many of those have now passed, but their stories live on thanks to our website and our exhibitions.
The archive has had very little income over the last two years so we are very grateful to everyone who bought at our stall, had a go at our tombola or gave donations either for refreshments or just put in our hand. The exhibition was put on thanks to a grant by Essex Community Foundation. The refreshments was supplied by Morrisons to whom we send thanks. Thanks must also go to our great team of helpers, we could not have done it without you. I nearly forgot all the people who donated to or Tombola. We look forward to seeing you all again next year. Watch the archive's website for updates about the 70th anniversary, plans are already being drawn up.