£200 Robberies At Canvey
Thefts from holiday bungalows
Essex Weekly News 1944
Despite the fact that he retracted a confession he had ma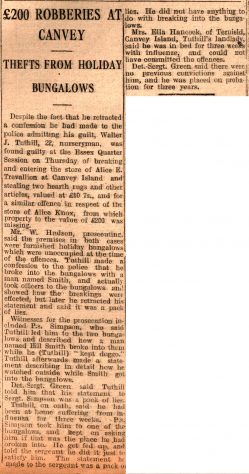 de to the police admitting his guilt, Walter J. Tuthill, 22, nurseryman, was found guilty at the Essex Quarter Session on Thursday of breaking and entering the store of Alice E. Trevallion at Canvey Island and stealing two hearth rugs and other articles, valued at £10 7s, and for a similar offence in respect of the store of Alice Knox, from which property to the value of £200 was missing.
Mr W Hudson, prosecuting, said the premises in both cases were furnished holiday bungalows which were unoccupied at the time of the offences. Tuthill made a confession to the police that he broke into the bungalows with a man named Smith, and actually took officers to the bungalows and showed how the breakings were effected, but later he retracted his statement and said it was a pack of lies.
Witnesses for the prosecution included P.S. Simpson, who said Tuthill led him to the two bungalows and described how a man named Bill Smith broke into them while he (Tuthill) "kept doggo." Tuthill afterwards made a statement describing in detail how he watched outside while Smith got into the bungalows.
Det. Sergt. Green said Tuthill told him that his statement to Sergt Simpson was a pack of lies.
Tuthill on oath, said he had been at home suffering from influenza for three weeks. P.S. Simpson took him to one of the bungalows, and kept on asking him if that was the place he had broken into. He got fed up and told the sergeant he did it just to satisfy him. The statement he made to the sergeant was a pack of lies. He did not have anything to do with breaking into the bungalows.
Mrs Ella Hancock, of Ternield, Canvey Island, Tuthill's landlady, said he was in bed for three weeks with influenza and could not have committed the offences.
Det. Sergt. Green said there were no previous convictions against him and he was placed on probation for three years.