Edna's memories of the 1953 Flood
Miltsin Avenue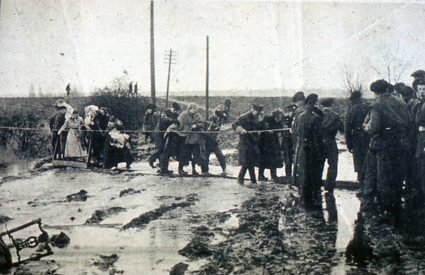 Edna Davies was the daughter of Gertrude Williams of Whernside Avenue who died in the floods.
There had been very strong winds that Friday and Saturday. I had taken some fish to Mum's to save her going out the previous day as she was going to the opening of the War Memorial on Saturday evening. That was the last time I saw her.
Jack went off to Shell for his first ever night shift (6pm Saturday – 6am Sunday). We had been discussing seeds to plant in our new garden that Spring, as we had only moved into 'Tamarisk' in November after building it with the help of family and friends.
There were only three rooms, kitchen, living room and bedroom. Helen (4yrs in March) and Ron (3yrs in May) were one each end of a single bed next to ours.
They were fast asleep and I read awhile before settling down. The wind was still high, but there was no reason to worry. Our little bungalow was snug and warm.
I awoke to a bubbling sound, must have been about 11pm – 12 o'clock. Water was bubbling up through the floorboards! First thought was 'water mains burst', but there were no mains over here! My sleepy mind soon came to life as I leapt out of bed into knee high water. Rushed to front door but, luckily for us it was swollen and wouldn't open. Back to bedroom where water was rising and Helen said "Mummy, the bed's wet" and I realised the level was rising fast.
I looked out of the window for help and saw tin bath floating past and tried to grab it, but it went rushing past on the swiftly flowing flood. Just as well, as if I had put the children in it they would have died from exposure. We were wet and it was bitterly cold and the window stayed open, but I don't remember feeling cold then. I must have put on my wellies but kicked them off as they slowed me down as I moved about in the water, now up to my waist. I could hear people calling for help and I wanted to get to Mum, but I had to, instinctively, save my children and their bed was now under water. I grabbed them, one in each arm and wondered what to do. All this happened in minutes. I felt it was a dream.
On the mantlepiece was a wooden jewel box Jack had made. Grabbing it I balanced, I think on the edge of my bed, and smashed a hole in the plaster-board ceiling. I don't know how I reached it but the rising water must have buoyed me up. I threw up an old policeman's cloak, still dry because it was on the mattress which was floating and pushed Helen up there telling her to keep still. Her frightened little face looked down at me while I tried to do the same with Ron who I had placed on the slope of the wardrobe which floated and rested against the fireplace while I smashed away at the ceiling. Poor little boy. He struggled and clung to me, not wanting to be put in that dark hole up there. So I swung myself up and reached down for him. I couldn't reach him and the wardrobe was filling with water and he was laying flat, face down on it.
I stretched down and grabbed his curly hair and desperately pulled him up by it until I could reach under his arms and he was with us. I am not sure if he was unconscious for a while but we balanced on the wooden joists, my arms around them and afraid to sleep or faint in case our wetness soaked through the plaster-board and we'd have fallen through.
In my shocked state I suppose I had stupid thoughts of going to Mum's in the morning for a cup of tea and how pleased she'd be to see us.
Still wrapped in the policeman's cloak, my legs ridged by the wooden joists, still clinging to the children I came to suddenly in bright sunlight and voice calling. Telling them not to move, I slid out of the ceiling into the water, now about 4ft-5ft high and not rising any more, lapping peacefully against the walls. Les was standing on the low sea wall. I didn't think to tell him Jack was not there, only concerned about him seeing to Mum, so he must have been surprised to meet Jack who had a canvas boat in which he had gone to Mum's. I can only imagine what he found there and have never liked to ask him.
Later Jack came to the still open window with his boat and with difficulty got us to the bank, very awkwardly, submerged picket fences could have torn the canvas boat.
We must have been an awful sight as we made our way along that wall to Mitchells Avenue. Caravans, furniture and debris was washed up everywhere. I looked at Nevada Road but couldn't see Lily and Harry. The sun shone on the still water. How could such calm come while we were feeling such effects from the storm?
Jack and I carried a child each. I was only in a thin nightdress, Mr Short the building inspector threw a blanket around us. Our first bit of warmth and comfort.
Outside the 'Jolly Boys', which had been taken over by the Army, we were put into a lorry. Somewhere we were transferred to a bus, I can't remember where. We were taken to Benfleet school where I was carried in because of my still dented legs. There was no room there, so we were taken to Shipwright's school, which had not been officially opened and was still brand new.
Piles of clothing were placed there by WVS ladies and we ate. Jack went off to seek information and I sat on a chair, my legs on another, my kiddies on each side. I kept my arms around them in case we were separated. Canvey folk were walking around the hall in a daze trying to find relatives and friends. Chalked on a blackboard were messages. Bernard Braine came up and asked, with much kindness, if we had all we needed. All I could think I wanted was to be at home cooking Sunday dinner.
Mr Stevens, who had helped us build our bungalow, came to us terribly worried. He asked if I had seen his daughter, her husband and baby girl who lived near the sea wall. I hadn't. I asked if he'd seen my Mum, but he hadn't.
Late afternoon, Jack appeared with a man who was a friend of his cousin, Ted Tiffin, who took us in a small sports car to Mrs Butfield's house in Kents Hill Road. She was a widow with two daughters. As I walked in I saw a coat just like Mum's hanging up. When I told her she whisked it out of sight. I vaguely wondered why, Jack hadn't told me anything, I suppose he thought I wasn't in a state to be told the truth, but I think I really knew.
My mind seemed to be numb against what I didn't want to know. Just as well, perhaps, because I kept a kind of calmness which made me surprised at myself, but I hope enabled me to cope and not to panic Helen and Ronnie who were taking things very well considering all they'd been through.
Les found us there and told me about Mum. He, Alice and the children were in Highgate with friends. Lily, Harry and family were in Tottenham with Harry's sister.
Soon after that a policeman came with the same news. Mrs Butfield was very kind and opened her house to us. Jack's Mum and Dad found us there. They were in a house in Britannia Gardens in Westcliff and a neighbour had a flat to offer. We were very welcome at Mrs Butfield's, but little room there and we didn't want to impose on her, so a flat to ourselves was tempting.
Before we left I went to see Mrs Butfield's doctor about my legs which were painful and still indented from the joists, while he bound them up he was telling us how he used to go to his Canvey patients on horseback in the old days. His name was Dr Wilkes.
22 Britannia Gardens was a large three-storey house owned by Mr & Mrs Stenfalt. They and neighbours, stocked the kitchen with food and were absolute kindness. We settled down a little and I set about altering the children's clothes to fit them, Jack went to and from the bungalow finding things to bring home to dry before the fire.
The funeral took place and the family came there for a meal. I went to a grocer's in Hamlet Court Road and asked for bacon. The manager put his finger to his lips and smuggled a packet to me. I didn't know then he that he didn't want to upset his Jewish customers by having bacon in his shop! Sweets were taken off ration at this time too. I went to a building in Victoria Avenue and walked home with a roomy double pram, Helen and Ron, one each end, which was very useful and easier to around with.
After a few weeks of recovery we were offered a flat at Kit and Tom's 'Jolly Boys'. The Army had used their kitchen while helping on the Island (but never really recompensed them for the heavy wear of army boots) and had now left. At least we were nearer home which was being repaired, but I didn't want to go back to it.
We needed a bed at Kit's for the children and were told to ask at the WVS store near the sea front. I asked several times and nothing came up. I went there with the children to ask again and a rather bullying woman said bed and bedding had been delivered to us twice already. For the first time I cried, I hadn't been able to before. It turned out that a family with same name as us in a bungalow behind the 'Jolly Boys'.
Grateful thanks to Val Toop for passing this story to us.