1 - May Ethel Mather nee Timewell
Pioneering Sister QAIMNSR
May Ethel Timewell was born in 1873 to William and Amy Timewell, William was a solicitor and the family were living in Nottinghill. It is a long road from then until May came to Canvey Island between 1919-1923 (exact date unknown) to be a nurse to Ebenezer Joseph Mather, the founder of The Royal National Mission to Deep Sea Fishermen, who had retired to Canvey c1911. Although very much her senior she married Ebenezer following the death of his first wife in 1925.
Before arriving on Canvey Island May had been travelling the world nursing, in this short article we show just a little of her travels and would like to thank Stephen Friend, an authority on the life of E Mather and the Fishermen's Mission, for passing these photos to us and pointing us in the right direction.
May started her nursing career in 1900 at the London Hospital where she did her training and lived nearby in Newark Street. Once she finished her training she became part of the hospitals private staff. (Not sure quite what that means in 1903).
From 1906 to 1915 she was doing Private Nursing travelling to the USA and Canada as well as the UK. We have records of her returning from Canada in 1912. According to her records the cases were anything from Epilepsy to Maternity, from Cancer to Paralysis and ranging from a week to several months at a time. It was during this period she became a registered nurse. (1913)
In 1915 after the start of WW1 May joined the QAIMNSR (Queen Alexandra's Imperial Military Nursing Service Reserves) as a Sister. The QAIMNS was first established in 1902 but the reserves were not established until the first week of WW1. Her mother, Mrs Bartels of West Hampstead was stated as her next of kin. Her father had died in 1879 and her mother had remarried.
May was first sent on active duty to Malta where she arrived in January 1916. Some of the photos in the gallery below were taken by her or for her during her time in Malta. She stayed in Malta until April 1917 when she was posted to Salonika, Serbia where she remained except for a three weeks leave home in January 1918. The rest of the photos below were taken in Serbia. She was eventually sent home for discharge in March of 1919 where she was sent to a dispersal hostel in Brockenhurst. Her next of kin at that time was her sister Miss J Timewell of West Hampstead.
We next find her travelling to Canada in 1919 to where exactly we do not know.
She arrived in Canvey sometime between then and 1923. We have a letter, dated that year, from the War Office addressed to her at Cotswold Gardens, Canvey Island the home of Ebenezer Mather. She married Ebenezer in 1925, he died in 1927 and is buried in St Katherine's Churchyard.
Little is known about her life on Canvey although she spent nearly 40 years here. We know she was still living at Cotswold Garden in 1929 but according to her probate papers she was living at 'Beulah' Taranto Road in 1961 when she died. Her elder brother Frank Edwards Timewell was also living on the island moving here sometime after 1929, he died in 1940 and is buried in St Katherine's Churchyard. On her Probate papers that listed her residence and place of death her nephew William Henry Timewell, a driver, was listed as Administrator. We do not know if she was buried in St Katherine's, her grave has not as yet been found.
If anyone can add anything to the above, in particular to her life on Canvey please comment below.
UPDATE: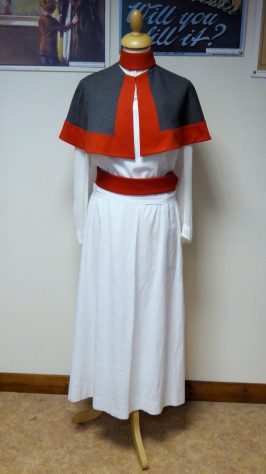 The photos passed to me by Stephen Friend have been deposited in the Bay Museum along with this article and Sister Timewell's nursing record at the London Hospital and her WWI records held by the National Archive.
The museum has this great uniform worn by the nurses of the QAIMNS therefore we felt it was the correct place to pass the photos and May's story to.