The Boys Brigade at Leigh Beck Baptist Church
Written by Doris Flaherty
This is an article written by Doris Flaherty in 2001 to celebrate the 118th anniversary of the Boys Brigade.

Great Oaks from little acorns grow
This year we celebrate the 118th anniversary of the Boy's Brigade  by William Smith. He was later Knighted.
From its small beginning as a Bible Class in a Glasgow suburb, the Boy's Brigade (BB) spread rapidly throughout the country and through the world, and its membership included men who rose to places of high authority in our country, including Mr Thomas, one time speaker of the House of Commons who was a member of the first Tony Pandy Company.
The Queen is our Patron and the archbishop of Canterbury our Vice Patron. The Duke of Edinburgh, a past President. Also, a former military man Sir Robert Baden Powell.
He was inspired by the success of the BB and courted the advice of Sir William Smith and thus in 1907 the Boy Scout movement was formed.  The charismatic uniform with knee length trousers and Baden Powell hat was very appealing.  Although their ideals were the same, their origins were totally different.  The BB was founded and based on the Church.  Their basics are the Advancement of Christ's Kingdon among Boys.  The promotion of habits of obedience reverence and discipline, self respect and all that tends toward Christian manliness.  There were two are groups 12-15 was the Company section and the 15-18 the Senior section, which hopefully would lead to Church membership.
The Boys Brigade came to Essex – first to Warley and then Brentwood. The First Canvey Company was formed in a church in 1926 by Mr F W Seasmith as its' Captain and the Rev. T Douglas as its' Chaplain. This project closed in 1932. The Company was reformed in 1949 by Mr Walter Kingsley, affectionately known as Wally.  This Company became known as the 10th Southend.
In the meantime, the need was felt for a younger age group 9-12 years.  1924 saw the formation of the Life Boys who wore navy blue jerseys and round sailor hats, BUT this organisation was not recognised by the BB.  They were not part of it, but a separate organisation.  Yet they were accepted as the junior reserve of the BB.  Their object was the advancement of Christ's Kingdom among young boys and the training of suitable recruits for the BB.  So great was the opposition to the Life Boys that they were forbidden to march on Parade or take part in any display with the Company.  In many cases these rules were conveniently bent.
After years of campaigning we were acknowledged and became the Junior section of the Boys Brigade.
November 1946 saw the arrival of the Barrett Family – Mr & Mrs and 4 children.  They lost no time in settling into Church activities.  Mr Barrett it was who drew up the plans for a much needed Youth Hall.  He drew a design for the front edifice, marked it off in bricks.  Sunday School Children including my two took 6d (2 ½ p in decimal coinage) to buy a brick.
November 1949 Mrs Florence Barrett formed a Life Boy team and asked me to help, which I did.  She suggested that I should become an officer, which entailed course of intensive training.  I received my Officers Warrant in January 1954 which entitled me to wear uniform.  A military style jacket with badges on the lapels a white shirt, blue tie, a tricom hat and white gloves.  This uniform was modified when we became Junior Section.  Again the need was felt for a yet younger age group 6-9 years.  Sylvia and George Barrett formed a group of these little boys and called them BRUNO'S.  My son was one of them.  Mrs Alexander, who was the Area Superintendant and Headmistress of Southend County High School, gave them the name of Cabin Boys.
History repeated itself, Headquarters would have nothing to do with us.  After years of campaigning, which I was a prime mover, we were at last recognised and were called ANCHOR BOYS.  Our Team was very efficiently run by Joan Barrett for 25 years.  From the time of its inception, the BB and its age group of 6-18 years would come under the Leadership of Wally Kingsley, who inspired a generation of fine young men who have made their way into a world of high education and professional standards.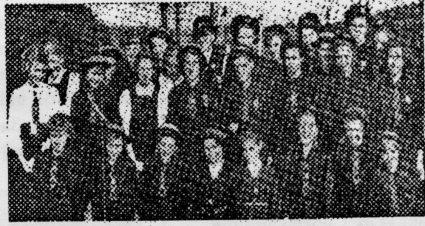 Robert Barrett went through the ranks and became Captain on the retirement of Wally Kingsley.  His two boys (now men) John and Paul also went through the ranks.  Now we have 3 generations of Barretts in Church. Jamie Moss also went through the 3 sections, came out of University with a degree.  He has participated in community service with the Salvation Army in the USA.  He now takes part in the activities of the of the Church.  We also have 3 generations of the Moss family in Church. Kevin and Anthony Tearl ,who's father was a BB Boy and their Grandfather a Captain.  Jamie Stallwood went through all 3 sections, became a Church member and went through the Waters of Baptism.  He also went to University and came out with a degree.  He now holds a job of great responsibility in the world of computers. James Blackwell also became a member and was baptised. He is a brilliant pianist and was church organist until he went to University attaining a degree.  He is now teaching in the West Country.  Daniel Hills and Patrick Sullivan also came out of University with Degrees in Dramatic Art. Martin McNeil is Editor of the Newspaper Group in South East Essex.  Roger Crisp is a School Headmaster in Southend.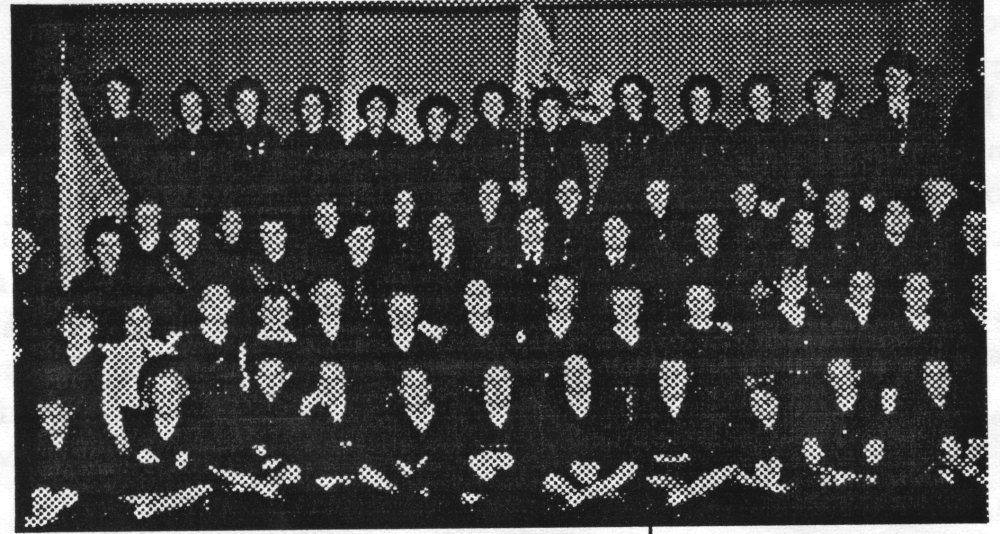 Running parallel with all this was Mrs Marjory Kingsley a talented lady and a briiliant pianist who played the piano for hymn singing in church before we had an organ.  She it was who formed the Girls Brigade in 1924.  When I with my family moved to Canvey in March 1946, it was a big and flourishing company with 3 sections.  Cadets Junior and Seniors.  My daughter soon became a Cadet.  They wore large round hats which they called flying sauces.  The activities of these organisations came under 4 headings.  Spiritual, physical, educational and social. Later a 5th was added covering the community with Mrs Kingsley as Captain she had two lieutenants –Freda Hall and Rosa Webb, affectionately known as Leffy Hall and Leffy Webb.
Mrs Kingsley took the girls to camp. Not under canvas but to a big old House in Hove and a church hall in Birchington.  Parents would go to Benfleet Station and prayers would be said on the platform by our Paster, the Rev. Hodgson, before the train pulled out with Mrs Kingsley waving from the window until out of sight.
Florrie Barrett and I took the boys to camp (again not under canvas).  We stayed at Oulton Broad, Victoria Road Baptist church.  Rules were very strict.  Orders were that boys must sleep on a camp bed a specified height and apart from the next boy.  There had to be adequate toilet and cooking facilities.  We took our own camp beds and cooking utensils, packed in the back of the coach.  I cooked many a meal in my pressure cooker.
On Florrie's retirement Mary Storey and I took the boys to Seaford and stayed at the Methodist Church where cooking facilities were excellent.  We had three cooks, Ivy Aylot the late Freda Hall and Grace Buttlemen.  Each Officer had an allotted job. Ken Storey was Games Officer, which involved a lot more than it sounds, including strict safety precautions while bathing in the sea.  I was medical officer, which involved keeping medical records and administering any prescribed medication and supervising cleanliness such as washing behind their ears.
I took a large bottle of shampoo for washing their hair.  We called it Amani night.  The evenings were spent with walks along the sea front, fancy dress competitions, impromptu concerts when Mrs B and I as Liza and George had an 'ole in my bucket'.  Evenings always finished with prayers and hot cocoa.  We had a couple of emergencies.  Mark Stacey was taken ill with a suspected appendicitis.  The Doctor was sent for and an ambulance took him to Eastbourne Hospital and the police sent for Jenny and Peter.  Later on in the week, a boy was taken ill with what I recognised as asthma.  Again with Ken and me on another visit to the doctors.  It is not all 'beer and skittles' taking boys to camp!
The boys paid for their food and accommodation but money for trips out were paid by a sponsored walk to Hadleigh Castle and a wall of coins.  We could not have a mile of pennies because the new one pence piece was too small.  So we had a bright idea of a wall of coins along the forecourt of the Church.  People emptied their pockets and gave £1 coins and 50p pieces.
Church Parade was something to behold both BB and Girls Brigade all three sections marched from Gains Corner with colours flying and into church.  The dismissal and March off the Colours took up the whole of the pavement in front of the church.  The whole congregation and passersby would stand and watch this impressive ceremony.  The influence of the Girls Brigade was as impressive as that of the BB.
Many girls now in middle age have led active lives in a variety of ways.  Margaret Kingsley spent many years as a Missionary in India and now from her home in Peacehaven is involved in Community work of a most unusual kind. Jenny Stacey is dedicated to nursing. Vera Jones still worships with us.  Sally Nichols is very active worker in her church in Fyfield.  The late Doreen Seaton worked with the junior section of the BB in our church and later Wintergardens.  Barbara Watts (nee Flaherty) rose through the ranks to become Staff Sergeant.  On her marriage and removal to Scotland she became Captain of the 18th Edinburgh and Lothian Company.
She is also an Elder in her church and a councillor to those in distress.  Her daughter Elizabeth is Captain of a company in her town of Penicuich where Edinburgh Crystal is made.  She is also Divisional Commissioner and Advisor of the Duke of Edinburgh Award Scheme.  Her daughter Anne recently out of university with a degree is a lieutenant in her mother's company and is public relations officer.  They are both holders of the Duke of Edinburgh Gold Award.  Barbara at 63 has recently become a widow and is bearing her sadness with true Christian fortitude.  With this family there are 4 generations in Brigade Uniform.
These two wonderful organisations have left an indelible mark on so many lives.  It is so sad to see them in decline.  I grieve for the boys and girls of today, some of who are aimlessly wasting their lives.  Ken Storey who like myself is steeped in Boys Brigade is struggling valiantly, tirelessly to revive some of the old traditions such as carrying the Colours into Church.
We have recently been presented with beautiful new Colours by parents in memory of Alan one of our junior boys who spent many happy times with us whilst suffering from a rare bone marrow disease.
With such people as the Kingsleys and the Barretts it's a hard road to follow.  I have spent a long time talking about our illustrious past.  But let us not dwell upon it nor rest on our laurels.  We must look to the future.  We are so grateful and thankful for the newcomers to our church.  We welcome them with open arms to carry on this great work.  Footballers and pop stars may get their knighthood and OBEs yet we go un-honoured and unsung  BUT perhaps to hear the great Captain of our souls say 'well done though good and faithful servant'.