Leigh Beck Junior School
I remember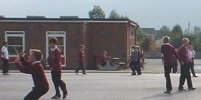 I went to Leigh Beck Juniors from 1973 to 1977. I remember having Mr. Mutton when I was in the third year, but I can't remember the other teachers I had, I wish I could.
I remember my dad helping to build the swimming pool, he helped make the wooden benches in the changing rooms. I was proud when I passed my 25 metre and 50 metre certificates for swimming especially as dad had helped.
I also remember passing cycling profiency in the front playground.
There were also good christmas plays I was usually in the choir I was shy at acting.  My dad was also known for making some of the props for the school plays like wooden swords when there was a play about Sir Walter Raleigh who my younger brother played.
There was usually good participation in the sports days, I also remember doing country dancing out on the front field if the weather was nice and in the hall if the weather was bad.
The school discos were also very good and I can remember going to one following a thunder storm and we were told the caretakers house had been struck by lightning. We still had a good disco.