Sporting And Charitable Ventures
From Three Decades in Blue
Canvey Island jail break team 1988
Sponsored 'Jail-Break'
By autumn 1987, I had taken part in five marathons, a raft race and a road relay running event from John O'Groats to Lands' End – having plenty of fun and raising money for various good causes. But I had grown a little tired of the running events and I guess I was keen to find something else, something a 'bit different' to invest my time, energy and charity fundraising experience into – and that's when I heard of two of my Canvey Island Police colleagues (PC's Steve Wood and Paul Eveleigh), who were considering taking part in the Essex Association of Boys Clubs annual 'Jail-Break' event the following year 'in 1988'. I looked into that and a double page feature found in a local newspaper published on the 6th October 1987, showed that a Billericay Police Team had reached Miami, to clinch the 'Furthest by any means' award – which grabbed my enthusiasm and I fancied being a part of such a venture!
So I approached Steve and Paul and asked if I might join them in their participation in the 1988 'Jail-Break' event, stating that I had some experience of charity fundraising for events like that, plus 'organising, sourcing and networking', which may come in useful. Steve and Paul agreed and I soon had ideas to share about 'where we might aim for' in terms of trying to win the 'Furthest distance travelled by any means' category AND I also had some initial ideas of a distinctive 'costume/outfit' that we might source/wear, which I felt would 'stand out' and 'look kind-a- cool'.
My first ideas on the challenge/event itself were to 'escape' Chelmsford Prison (the official 'Start' point) and travel by sponsored means (car, helicopter and plane) to San Francisco (USA), ending up incarcerated in ALCATRZ Prison, on the Island in San Francisco Bay – well that was the idea. In October 1987, we secured from our Deputy Divisional Commander, authority to take part in the planed 1988 'Jail-Break' event, although a recent instruction from the Divisional Commander about 'advising of sponsors to be approached for charity events' (before they actually were), was an awkwardness I had not experienced with previous charity fundraising events, I had been involved with.
In December 1987/January 1988, I began to contact potential sponsors such as the Brent Walker Group (seeking a helicopter flight), Mobil Oil Company (seeking company 'overalls' to wear as our Jail-Break 'Prison Garb') and Jack King of Canvey Island (to sponsor our flights to the USA). During the Spring/Summer months of 1988, more sponsors were approached such as Cliff Hickson, a Canvey Motor Trader (to act as a 'Getaway Driver' from Chelmsford prison) and HI-TEC Sports (to provide suitable and comfortable footwear).
As the early months of 1988 passed, there was a thousand and one things that needed to be done in preparation for the 'Jail-Break', both in terms of here in the UK and across in the United States, where we hoped to secure our winning record distance travelled. It has to be remembered that in 1988, we did NOT have the benefit of Emails, texting or websites and so ALL communications (especially those between the UK and America) had to be enacted the old fashioned way, by 'SNAIL MAIL'!
The success of our 'Jail-Break' would depend upon getting the logistics, the promotion and the sponsorship, ALL right, in equal measure. ABC Travel on Canvey Island were brilliant in terms of our travel arrangements to America, but there were many other things that needed arranging and 'problem solving' such as enquiries as with Gatwick airport officials to do with our helicopter landing there and obtaining the authority to bypass normal immigration processes, in order to expedite our onward travel.
As the big day drew closer, promotion of the event and our participation became ever more important, in attracting further sponsorship and as far as America was concerned, we had to just hope that the letters and information's had got there, so they was able to put in place all relevant arrangements 'their end'. Finally after months of planning and preparations the big day arrived – Saturday 8th October 1988 –  we being blessed with a dry, mild and clear day (that last detail being especially relevant when employing the use of a helicopter!!).
An early 'pre-start' meeting took place at the Police Training School in Chelmsford about 7.30am, involving Paul Eveleigh, Steve Wood, myself, our 'Getaway Driver' Cliff Hckson and the Helicopter Pilot (who was on loan from The Brent Walker Group) Bob Green (who had landed on the sports field, at the rear of the Training School). Some of our baggage was loaded onto the Helicopter, so as to reduce delays once the event began.
A meeting then followed for Paul, Steve and I, at the 'Jail-Break Reception; (across the street from Chelmsford Prison), which took place shortly after 8am, where we collected our 'Destination Certificates' (to record and authenticate wherever we would get to at the expiry of 12 hrs after the start), plus entry/exit badges for the Prison. Cliff Hickson found himself a suitable place to 'park up' in the front Prison car park, to affect our  getaway once we 'escaped' the Prison. There then followed a 'press call' on the Prison forecourt of the x 39 assembled teams, we subsequently entering the Prison via the main tunnelled gateway. With all teams then waiting patiently inside the Prison confines – my brain was thinking of '1001 things' I needed to plan and get right — but which I could so easily have forgotten and/or got wrong!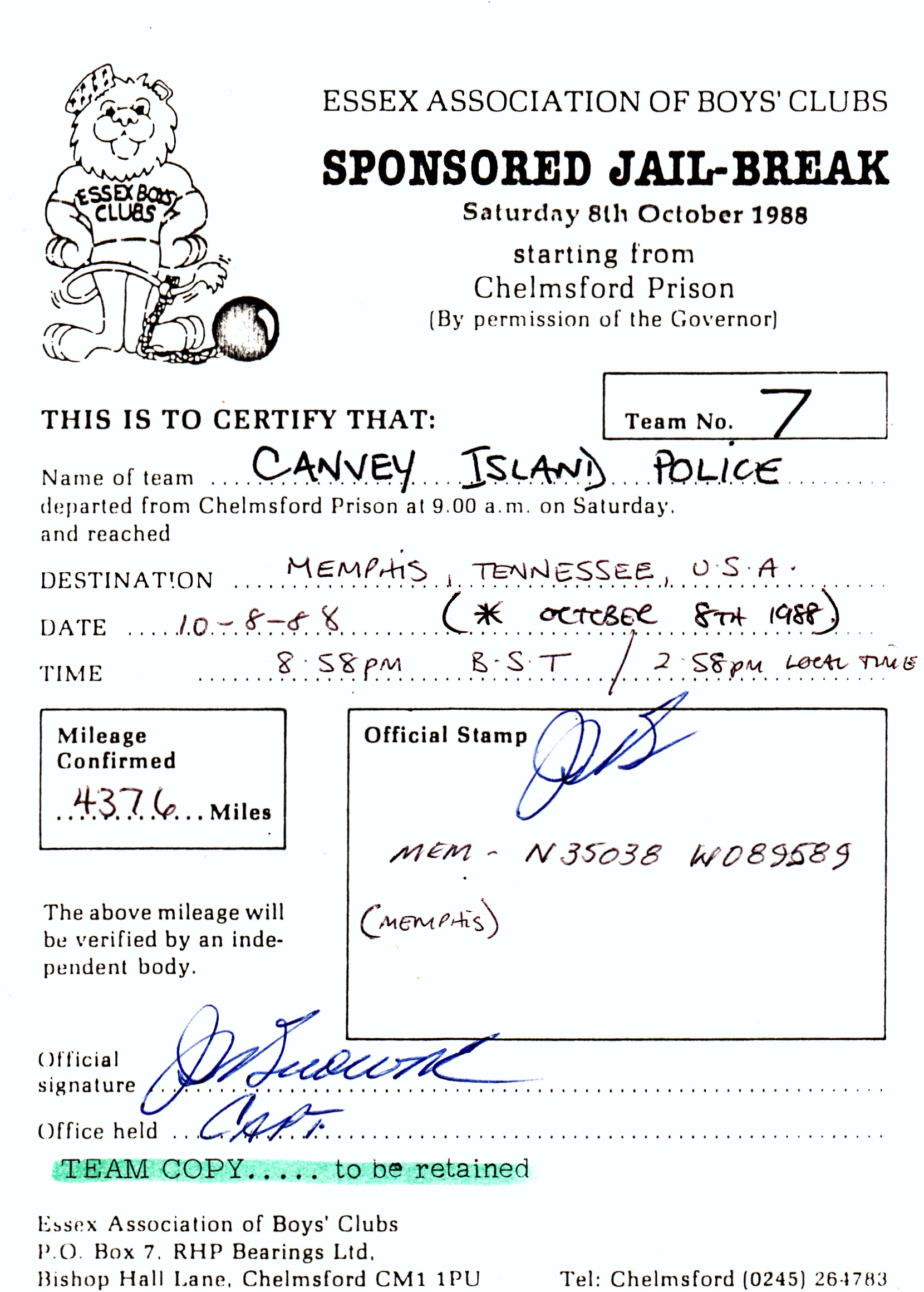 At 9am a loud siren went off, cheers were heard both inside and outside of the Prison and once the main gate rolled itself open, more cheering and Claxton's went off as the mass of competitors emerged from the prison – and the 'escape' was effected – we were on our way!
Cliff Hickson did his job well, in driving us a 'speedily' and safely from the Prison to the Police Training School, less than a mile away. Once there, we said our goodbyes to our waiting wives/girlfriends, climbed aboard the Westerland 'Gazelle' helicopter ('G-UTZY') and pilot Bob Green soon lifted off, with the assistance of a Police Traffic Officer dressed in full 'Yellows' on the ground – using standardised aviation 'hand-signals'.
It was strange to see the waving wives/girlfriends (on the ground) and Police Training School grow small, as we pulled upwards into the sky, the noise of the Helicopter rota Blades and engine, drowning out any conversation between Paul, Steve and myself inside the 'heli' . I recall the helicopter had a clear toughened Perspex front windshield, which curved down under where my feet were (I being seated in the front passenger seat). I recall we passed at some point over Biggin Hill aerodrome and I saw below, small aircraft taking off from the runway, which to me a thousand feet of so above looked like little toys!
The journey from Chelmsford to Gatwick took about 25 mins, but unfortunately wasn't without incident. I recall at some point the helicopter dropped 'mid-air' probably no more than a few feet, but dropped all the same 'like a stone', which I found quite disturbing – as somebody who had never experienced anything like that before. The pilot told us it was due to the 'heli' hitting an 'air pocket', which basically means that within that 'space' (that 'air pocket') the rota blades of the 'heli'  have nothing to grip onto in the sky – thus it drops! I can't say after that experience, I had little desire to ever fly in a helicopter again.
We landed at Gatwick in the General Aviation Area and were met by Mike Hooks, a representative of American Airlines, who were to be our carriers to the USA. Mike took Paul, Steve and myself by car to our aircraft for check-in, security and boarding of Flight 51 for San Francisco (via Dallas/Fort Worth – where there was to be a slight gap, before n onward flight to complete our journey).
The flight from London Gatwick to Dallas/Fort Worth was expected to take just under 10 hours and it was hoped that Dallas/Fort Worth Airport, would be the place that our time limit of 12hrs would expire, we then predicting to have travelled 4,747 miles[1].Had we done that we would have beaten the previous year's winners (Billericay Police Charity Group), who travelled 4454 miles[2]. However, our American Airlines flight was re-routed and needed to make a landing at Memphis International Airport to take on fuel. That delay meant that the 'Jail-Break' 12 hr time limit actually expired whilst at Memphis, Tennessee – where I asked if the Captain would oblige us by endorsing our 'Destination Certificate(s)' which he did, at 2.58pm local time (8.58pm British Standard Time). That re-route/delay, meant that we had travelled 4.376 miles within the 12hrs (Jail-Break category time limit).
What happened next upon our arrival at Dallas/Fort Worth Airport, was easily the highlight of both the day and the whole experience. As we left the American Airlines 747 and made our way into the terminal lobby, waiting DFW Department of Public Safety Officers (Airport Police) 'detained us' as faux 'Prison Escapees from England' and Paul, Steve and I were then handed over to waiting Dallas Police Department Officers, also were also 'waiting in the wings', who officially 'arrested' and hand-cuffed us.
Of course all of this 'arresting' behaviour, was in jest and good humour (being recorded by the press and videotaped by Dallas PD. I would also later find out, that local Channel 5 TV had recorded footage for showing on their local news broadcast that evening). Detective Steve Laney of the Dallas P D, oversaw events at DFW Airport and couldn't help himself once the 'officialdom was complete, to comment/ask; 'I have just one question, are all Englishmen this slow' smiling and referring of course to our almost 2hrs overdue arrival at DFW Airport.
The welcome ceremony that followed, presentation of gifts, taking of photographs and informal chats with multiple persons of the various Police, Law Enforcement and Airport Authority, was so incredibly warm and the hospitality shown, so generous.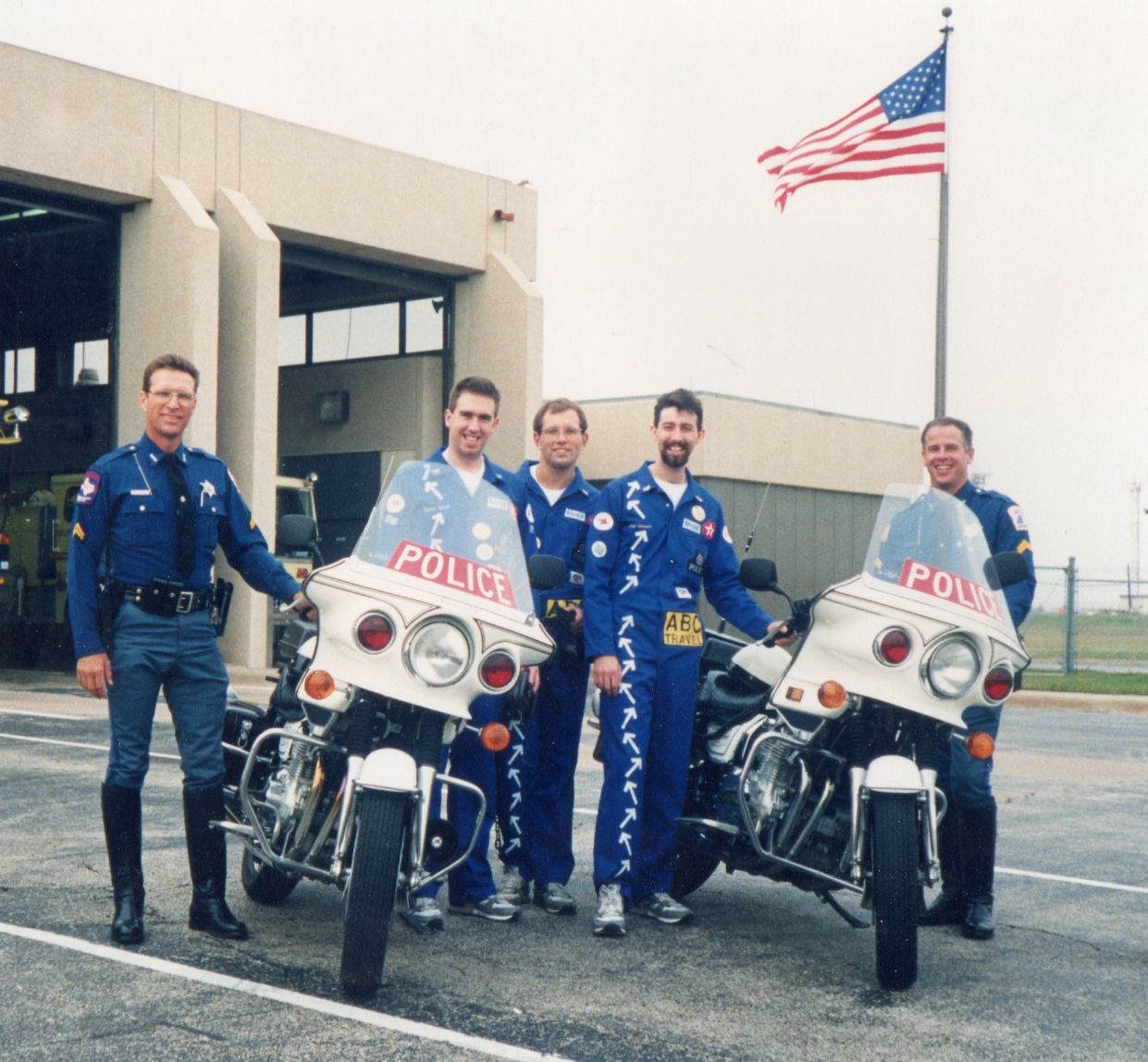 During the wait for our connecting flight to San Francisco (which was always planned as being our final destination), DFW airport police officers David Willis and Jim Baggett, showed us around some of their police vehicles and equipment at an outside facility at the airport and I was given the opportunity (having some prior motorcycle experience), to ride one of their Kawasaki 750cc police motorcycles – which I found a heavy, bulky 'beast' (compared to my previous motorcycle experience). But it was still fun and yet another memorable experience, all the same Paul, Steve and I subsequently caught our connecting flight to San Francisco, which arrived there at 8.18pm local time, the outside temperature on our arrival being a 'balmy' 68 degrees. The next day all three of us went to Fisherman's Wharf '('Pier 49') 'down town' at the harbour and had our 'official' Jail-Break photo(s) taken – wearing our blue Mobil boiler suits, with former Alcatraz Penitentiary Island in the background (in San Francisco Bay).
After a week's travelling about at our own expense (taking in Los Angeles and the Grand Canyon), we travelled back to Britain on an overnight flight from San Francisco Airport on Saturday 15th October and after another stop at DFW, caught the 2nd leg connecting flight, which landed at London Gatwick on the morning of Sunday 16th October 1988.
In due course with all sponsorship monies collected, Paul, Steve and I was able to give £565.00 to/for the benefit of the Essex Association of Boys Clubs and the same amount to the BBC TV Children in Need Appeal. We also attended with our partners, the Essex Association of Boys Clubs presentation of awards evening, which was held at the Marconi Social Club in Chelmsford, on Friday 2nd December 1988, where we were officially presented with the 'Kaylance Communications Award', as the winners of the 'Furthest by any Means' category, in the 1988 Jail-Break event.