I have been looking into Canvey Farms, their names who owned them and who worked them. I must say it is giving me quite a headache.
Dowd's Cyclopaedia has some diagrams and maps which might help to sort them out.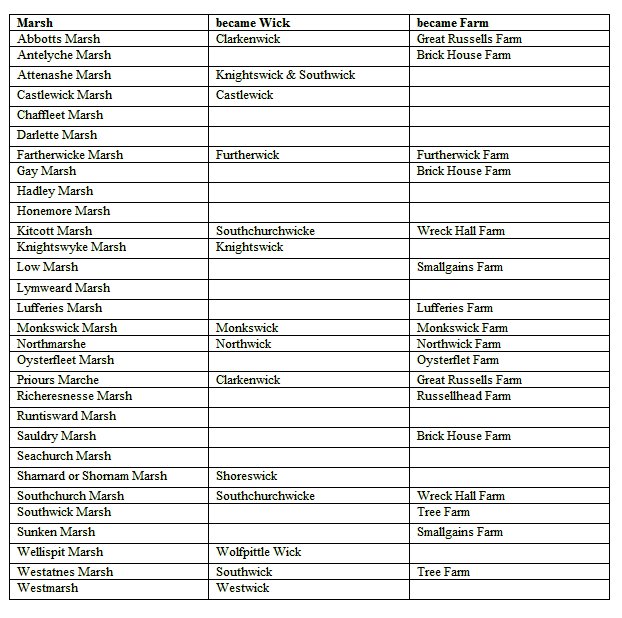 Each farm on Canvey went through three stages & names : i) originally a Marsh, subject to the vagaries of the sea; ii) in Norman times some walling was done to allow the erection of permanent 'Wicks' (ewe-milking sheds), later this term was extended to mean the complete dairy farm; iii) after the Dutch wall-building  programme allowed cropping, they became fully-fledged (arable) Farms.
Below is a map showing some of the farms. Spellings often differ from document to document. In 1874 Jeps Farm, 1896 Littel Gepps, later known as Little Gypps. There were three' Tree farms' one called Tree West, one Tree Middle as well as Tree Farm. Middle Tree was Southwick Farm. Tree West was either Northwick Farm or closeby. Kitkatts Farm can be spelled Kitts Kotts or Kittkatts but it used to be Cawtecote Farm. Lubbins used to be called Lovens farm but it was also later called Labworth Farm. Furtherwick was known as Chambers Farm because the owners name was Chambers. Kipkaps Farm is thought to be Kitkatts Farm as it sometimes shows up on the maps where Kitkatts farm was but it was actually further West, North of the village and its other name was Chimney Farm.
Talking to locals causes even more confusion as they often call the farm by the farmers name as Chambers above. Cooks Farm, as there were more than one area known as Cooks Farm and more than one brother I gave up. Leigh Beck Farm was known as Claydon's Farm or Clayton's Farm as the name appears on some documents. It was John 'Jack' Claydon who farmed there between 1918/1930s sometime before that it was owned by Frederick Hester.
Some of the names we know today are Brickhouse Farm, Russell Head and Waterside. With many others now just a named area of the Island.
There is a lot more in Dowd's Canvey Cyclopaedia and I am sure there is a lot more to find out. I hope you have followed this ok and are now clear about Canvey Farms. I still have a headache!!!