The following has been adapted from the information sheet provided by Joan Logan.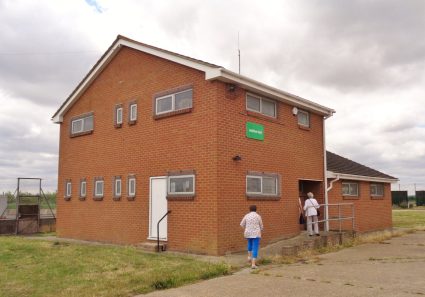 In 1979 Occidental had a half built refinery on Canvey when they decided it was no longer viable to complete the project.
The local St Johns Ambulance Cadet division, as it was then called, met in a small first aid hut on Canvey seafront. Joan Logan made an approach to Occidental to enquire about the cost of one of their prefab units. She was advised to write a letter and make a bid. The accepted bid turned out be13p! Joan was invited to the site to choose a suitable building and she even persuaded the company to dismantle it and transfer it to a new site.
At the same time the council were endeavouring to raise money for a community building to mark the Queen's Silver Jubilee. St Johns made an agreement with the council for the funds raised to pay for the concrete slab base for the building which would be named the Jubilee Hall.
A separate trust was set up and named the Jubilee Training and Welfare Centre Trust and was duly registered with the Charity Commissioners.
In those days Health and Safety wasn't as regulated and walls were put in place with the help of roller skates and 6 inch nails. The interior was kitted out with help of local businesses donating loos, basins, plumbing materials, paint etc.
The hall was well used but sadly it was irreparably damaged in the 1987 Great Storm and had to be demolished. So fundraising had to begin again and with the help of the local Round Table, other local organisations, families, friends  and colleagues the building as you see it today was put up.
The building is used by many local groups, U3A, Masonic Lodges, Tai Chi, St John Ambulance Castle Point Unit and TARG a local radio group.
It is thanks to those supporting its use such as Prospoke Building and other local businesses amongst others that we are able to continue as a non-profit making charity that can provide this facility for local community groups.
To celebrate the Queen's Diamond Jubilee and as a thank you from the committee to all the local groups who support the hall, that an afternoon tea was held on Saturday 25th June with representatives invited from each of the groups that use the hall. The Castle Point Mayor and Mayoress Martin and Dawn Tucker, Ray Howard MBE, Rebecca Harris MP and  Andrew Sheldon were amongst the invited dignitaries who support the hall.