1 - History of Greenglades/Cricksea
The land where the bungalow, Cricksea stood was at one time owned by Frederick Hester. His mono-rail ran nearby as you can see on his map below. The land was at the junction of High Street (then London Road) and Mitchells Avenue. (See maps below)
We do not have an actual year that the property was built but we do know in 1920 it was owned by Herbert Price Powell who was a land owner, estate agent and builder on the island at that time, so it is likely he was the builder. William Soanes took up residence in 1920 and by 1921 he had bought the property.  In Kelly's Directories it is stated from 1922-1933 he ran the place as Refreshment Rooms. The annex we believe was added around 1923. We have no idea where the name Cricksea came from although there is a place called Creeksea near Maldon.
William Soanes' business in London had been at Temple Chambers. It was here he ran his successful waste paper business. It is most likely he retired (or semi retired) to Canvey as he was 60 in 1920 when he first ventured to the island.  He had married is wife, Grace in 1886 they lived in Wandsworth and Herne Hill and had at least 7 children, 4 girls and three sons. Grace died in 1907 and is buried in Camberwell Old Cemetery. Their daughter, Grace Nancy, came to the island with her father and is recorded with him at Cricksea in the 1929 Electoral Roll. It is probably his daughter who ran the cafe. We may find out more in the 1921 census that is due out in the New Year. William died in 1937, he was buried in Camberwell with his wife.
There is a comment on another page regarding a postcard of Cricksea sent to Stanley Soanes' dad by his grandfather on the 30 November 1921  it says 'he has now finished the bungalow'. The rest is hard to read.
The property was then taken over by Christopher Michael Kirby. Christopher ran the business as a boarding house according to Kelly's of that year. We have not found out anything else about him so any ideas are very welcome.
He was not there long because the 1939 Register has Josiah and Daisy Lutz in residence at Cricksea Cottage and Charles and Florence Rice living at Cricksea. Charles' occupation is stated as Club and Canteen steward for beers, wine, spirits, teas and cigarettes. His wife as Boarding House Proprietress and late club stewardess.
We now go to 1944 when the Newman family arrive. We are fortunate to have the Newman family story as told to us by Jessica Thorndike who arrived with her parents, Gwen and Thomas Evans and grandparents, Charles and Gwen Newman. Jessica says:
As a family we came down from Scotland to Canvey Island in the year 1944. Mr and Mrs Newman my Grandparents had bought 'Cricksea' and Nan changed the name to 'Greenglades' because she did not care for the old name.
The war was still on and apparently a bomb had gone off nearby so the windows had smashed and a lot of damage had been done. Granddad had to do a lot of work so employed men to restore the building. I can remember how lovely it was at 'Greenglades' a lovely garden to play in and a feeling of freedom.
You can read more about the Newmans and Evans here. With their family photos here.
The family moved away in 1947 and the next we hear of Greenglades is this advert in 1948 when it was a hotel.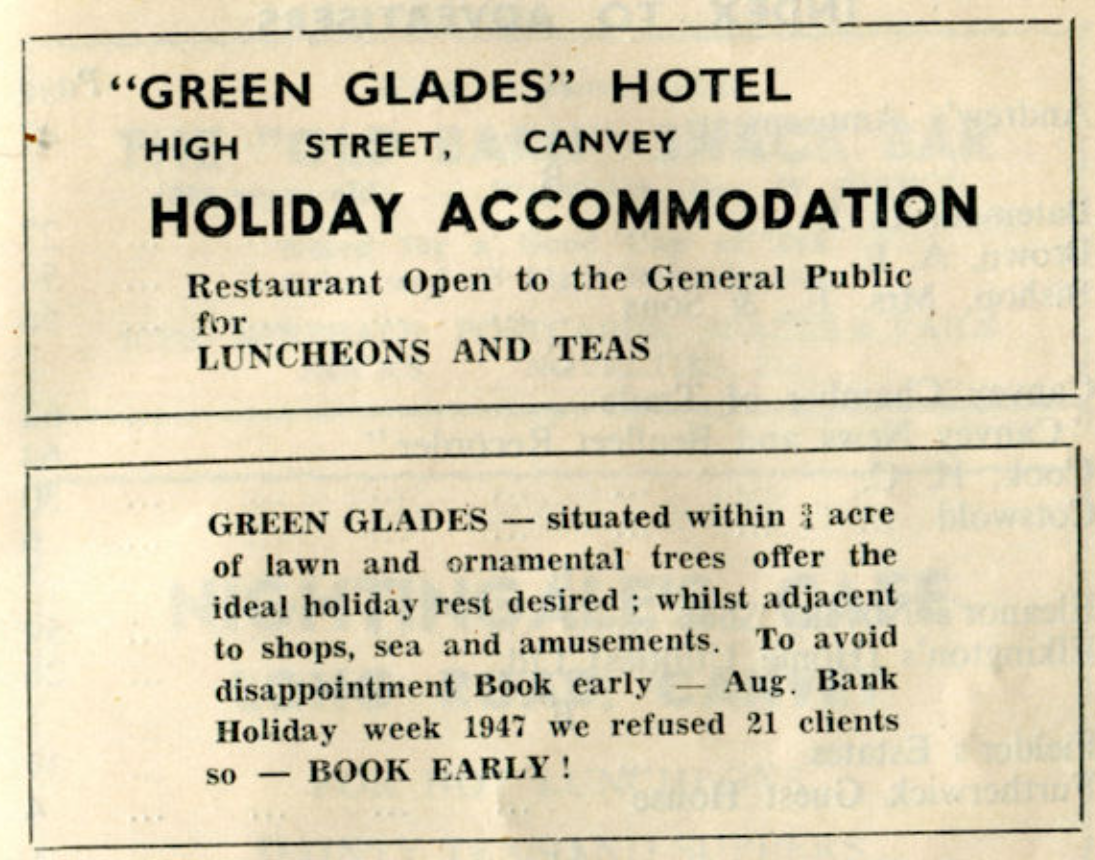 In the 1953 floods we have several photos taken of the property surrounded by water and the very famous photo of the proprietor Mr Liddiard walking through the water using chairs.
During the late 1950s early 60s The Georgette Juveniles used the annex.
The annex was also used by the St Georges Ambulance Brigade as a 1st Aid Station. It was run by Mr and Mrs Moore.
In the 60s there was Ballroom dancing run by Mr and Mrs Groombridge.
Our Graham Stevens delivered wedding telegrams there in the 60s and his sister remembered being there as a bridesmaid. So it must have been hired for wedding receptions.
It is believed Greenglades was demolished sometime in the second half of the 1960s. By the 1970s there was a garage on the site which is still there today.
If you can add anything please comment below.