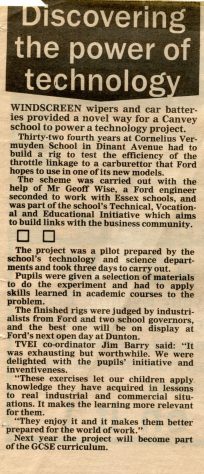 WINDSCREEN wipers and car batter­ies provided a novel way for a Canvey school to power a technology project.
Thirty-two fourth years at Cornelius Ver-muyden School in Dinant Avenue had to build a rig to test the efficiency of the throttle linkage to a carburettor that Ford hopes to use in one of its new models.
The scheme was carried out with the help of Mr Geoff Wise, a Ford engineer seconded to work with Essex schools, and was part of the school's Technical, Vocation­al and Educational Initiative which aims to build links with the business community.
The project was a pilot prepared by the school's technology and science depart­ments and took three days to carry out.
Pupils were given a selection of materials to do the experiment and had to apply skills learned in academic courses to the problem.
The finished rigs were judged by industri­alists from Ford and two school governors, and the best one will be on display at Ford's next open day at Dunton.
---
TVEI co-ordinator Jim Barry said: "It was exhausting but worthwhile. We were delighted with the pupils' initiative and inventiveness.
"These exercises let our children apply knowledge they have acquired in lessons to real industrial and commercial situ­ations. It makes the learning more relevant for them.
"They enjoy it and it makes them better prepared for the world of work."
Next year the project will become part of the GCSE curriculum.