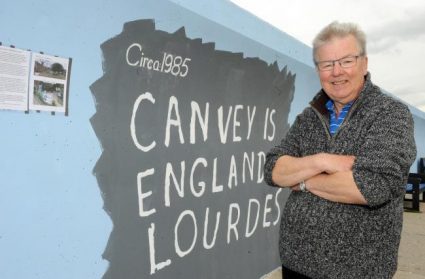 Friends (of Concord Beach) restore mysterious mural on sea wall. A CAMPAIGN group has rejuvenated a mysterious and endearing mural, believed to be painted in tribute to a nearby Catholic shrine.
With its distinct grammatical error, the "Canvey is Englands Lourdes" mural painted across Canvey's sea wall, has become faded since it was created in 1985. But after numerous residents contacted the Friends of Concord Beach to ask for it to be restored, it has been repainted with a glossy new-look – complete with the missing apostrophe.
Colin Letchford, 69, chairman of the Friends of Concord Beach, said: "We think it was painted in 1985 shortly after the sea wall was built. "Nobody knows who did it and we would love that person to come forward. Over the years the message became faded, so we decided it was time to restore it. We kept in the missing apostrophe because it's part of Canvey's history. A lot of people had asked us to save the painting so we did. It's looking great down here now, it's brilliant."
A photo of the painting, posted alongside a blurb of its historical meaning, attracted attention on Facebook. It is largely believed the message pays homage to Nora Arthurs, a practicing Catholic who moved from London to Roggel Road in the 1940s. Known for having visions of the Virgin Mary, Mrs Arthurs built a shrine in the back garden. Her home became known as 'Mary's House'.
The Friends believe Catholics from around the world made pilgrimages to the shrine in Mrs Arthur's garden, as they do similarly to Lourdes in southwestern France.
A spokesman for the Friends explained: "Cheaper air travel in the 1960s to 1980s meant many pilgrims could travel on pilgrimage to Lourdes in France – some in the hope of miraculous cures. Pilgrims came from all around the world to Canvey and it is thought one was responsible for the message 'Canvey is Englands Lourdes' painted on the seawall."
Echo article from 2017 by reporter Chloe Chapman