Past - 1949
Canvey Island Guide and Chronicle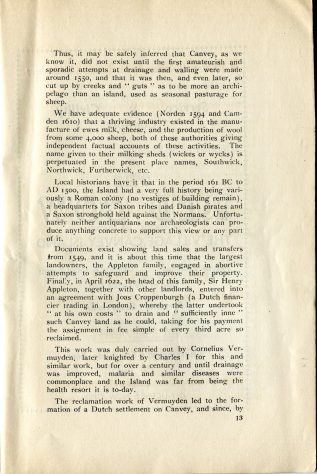 Canvey's more remote past is largely a matter of con­jecture. The finding of a limited number of Roman-type potsherds at the Point is accepted by some as proof of extensive Roman occupation of some importance and duration, but the limited area involved and its position might well indicate the probability of a wreck, the drift­ing of rubbish from up-stream or an occasional landing at a convenient spot rather than any permanent settlement.
Ptolemv in his "Geographike Huphéquásis" (com­piled circa 161 BC) speaks of Convennos or Counos and shows the two islands occupying a position somewhat to the east of the present Canvey.
Sixteen hundred years elapse without specific record until in 1594 Norden shows six Islands as "Canvey Islandes" extending to the east of " Southchurche," while Sudbury and Humble (1608) show six islands similarly named stretching only to the Crow Stone.
It is certain from contemporary records that around 1080 a subterranean convulsion radically changed the coastline of the Thames estuary, submerging some land and raising other.
Thus, it may be safely inferred that Canvey, as we know it, did not exist until the first amateurish and sporadic attempts at drainage and walling were made around 1550, and that it was then, and even later, so cut up by creeks and "guts" as to be more an archi­pelago than an island, used as seasonal pasturage for sheep.
We have adequate evidence (Norden 1594 and Cam­den 1610) that a thriving industry existed in the manu­facture of ewes milk, cheese, and the production of wool from some 4,000 sheep, both of these authorities giving independent factual accounts of these activities. The name given to their milking sheds (wickes or wycks) is perpetuated in the present place names, Southwick, Northwick, Furtherwick, etc.
Local historians have it that in the period 161 BC to AD 1500, the Island had a very full history being vari­ously a Roman colony (no vestiges of building remain), a headquarters for Saxon tribes and Danish pirates and a Saxon stronghold held against the Normans. Unfortu­nately neither antiquarians nor archaeologists can pro­duce anything concrete to support this view or any part of it.
Documents exist showing land sales and transfers from 1549, and it is about this time that the largest landowners, the Appleton family, engaged in abortive attempts to safeguard and improve their property. Finally, in April 1622, the head of this family, Sir Henry Appleton, together with other landlords, entered into an agreement with Joas Croppenburgh (a Dutch finan­cier trading in London), whereby the latter undertook "at his own costs" to drain and "sufficiently inne" such Canvey land as he could, taking for his payment the assignment in fee simple of every third acre so reclaimed.
This work was duly carried out by Cornelius Vermuyden, later knighted by Charles I for this and similar work, but for over a century and until drainage was improved, malaria and similar diseases were commonplace and the Island was far from being the health resort it is to-day.
The reclamation work of Vermuyden led to the for­mation of a Dutch settlement on Canvey, and since, by the terms of the agreement, the more land they reclaimed the more they owned, the wall was extended until it enclosed even more than does our existing wall, until the limit of economic working was reached about 175o.
The position then arose that one-third of Canvey land was occupied without fee by the Dutch but with the proviso that they, and they alone, were responsible for sea-wall maintenance. Human nature has not altered much, and the wall began to fall into disrepair until in 1790 Wall Commissioners were appointed by the Crown with powers to enforce a levy on all third acre land and expend the revenue on sea-defence works.
From then on, the Dutch began to abandon their hold­ings, allowing the land to revert to the original owners, until nothing but a few buildings and many Dutch place-names were left as a reminder to their successors of the architects of their salvation.
It is amusing but chastening to note that in 1667 another party of Dutchmen paid the Island a visit with very different intent. We were then at war with the Low Countries, and in June, 1667, Admiral de Kuyper with Van Gent in charge under him, sailed up the Thames on mischief bent. Being becalmed off Hole Haven, Van Gent anchored for the night and sent ashore a very strong landing party which burned and pillaged buildings and later retired with a considerable number of sheep.
Joining forces with De Kuyper they attacked, cap­tured and burned Sheerness dockyard, so it appears that even then, Island air and mutton had much to recom­mend them. History does not record the ownership of the buildings and sheep, but one can only hope that justice was poetic and the owner a Dutchman.
From the time of the exodus of the Dutch, the Island history is uneventful, being recorded only in land sales and odd gossip by contemporary writers, and so we come to Victorian times and steady unspectacular pro­gress, rise in land values and the emergence of Canvey as an industrial area and dormitory for the workers of London.
It is for us to decide its future.