Ken Laundy of STC (Standard Telephone and Cable) based at the Benfleet Manufactoring Operations branch of the company compiled the following for the companies Newspaper. lent to us by Joy Greenwood.
~~~~~~~~~~~~~~~~~~~~~~~~~~~~
What do you remember of 1953?. Is it of Sport, when we had the 'Stanley Matthew's Final1?; Of England's defeat at Wembley by Hungary 6-3; Of Gordon Richard's first Derby win at the age of 49, of England winning the Ashes perhaps?-
Or were your memories of 1953 of the Queen's Coronation, of golden Coach and cheering crowds:    Of the belated news of the Conquest of Everest? of Churchill as Prime Minister and
'Rab' Butler as Chancellor?——-
Well, whatever your memory, the people of Benfleet who are old enough to know, go silent when you mention 1953, for they know of a story which to them will forever haunt them, a story of sorrow, of heroics, of compassion, but most of all of an enormous loss and of great personal courage!!
They said it could never happen!! They said that The Coastal Defences which protected Essex from the surrounding Sea were strong enough to resist anything nature could do to them!
They were wrong!!!
The first attempt to protect Canvey from flooding was made in the 17th Century, when London Butchers in 1622, wanted somewhere close to graze their sheep. They employed a wealthy Dutchman, to enclose the entire, Island. His reward was to be a third of the land reclaimed and using Marsh Clay faced with Stone, brought across The Thames from Kent, the job was done. The Sea-Wall held until 1731, further breaches
in 1735, 1790 and 1897, after various levels of repair, saw work carried out to the Wall when the height of the Wall was greatly increased.
It happened on 31st January, 1953 the night of the terrifying East Coast Flood. One of the Nations' Greatest Disasters!!
The worst of the impact of Death & Destruction was in South East Essex and in this area, the worst hit was 'Canvey Island which, with Benfleet, now make up the District of Castle-Point. It was the place where fifty-eight inhabitants perished on the Island alone and who's name became World Famous in its Heroics, its mourning and its misery.
Ironically, a flood warning had been given in Lincoln­shire at 6p.m. on the Saturday, when the Wash had been breached, but not a word was passed down the line!
At Southend, the officials responsible for Sea Defences ordered 'Half-Hourly' Tide Readings after being told at 9.15 p.m. that the water level was rising rapidly- over 3 hours after the Wash had flooded. By 11.35p.m. the tide reached its 21 feet danger level and within minutes. Police sounded the first alarm. On Canvey, Council Officers were recalled and gave the flood warning at 12-50 a.m. on the 1st February. Measures were taken and Firemen were alerted and the latter sent to warn people and help flood victims. The sirens had already wailed but in the Gale Force wind the sound could not have carried far and so it was that thousands of people were caught by surprise.
At Benfleet there are five Employees who have memories of the night of January 31st/February 1st 1953, three were not exactly involved in the Flood, yet still have vivid memories of the occasion and two actually lived on the Island at the time and were dramatically involved in the disaster —This is their story.
Auto-Insertion Machine Operator – Josie Leonard's parents had gone to London to visit her sick grandmother and had left Josie and her brother to their own devices for the weekend.
Awakened by the noise of water, Josie and her brother got up to find sea-water gushing in around their feet, furniture was beginning to float as they hastily dressed and collected together a few of their precious belongings.
By this time, they could hear a nearby baby crying and shouts of rescuers asking people if they wanted help and if they were alright. A rescuer managed to get into their Bungalow and agreed to assist them to safety,    the sight was devastating! Families in tears, their lifes possessions lost forever . Water with its flotsam swirling around. "My God"!! – A dead dog – What a shock Josie had, as the corpse floated by !
The Leonard's lost a brand new bicycle, only bought the day before and unbelievably—-The whole of their
ponds contents of Gold-Fish! – Some 80 or so of their father's Pride and Joy. – They don't like salt water. Another fatality in their family was their Pet Canary which, although reputably rescued by the helpers, was never seen again.
And so it was that Josie Leonard, the then young Post/ Telegrams girl from New Road, Canvey, clutching a bundle of possessions, cold, frightened and miserable, was led away from her home and caught the train next morning to visit her relatives in North London. This wasn't the only unhappy experience for her either, as upon reaching her Grandmother's House, she learned that her Grandma had died!!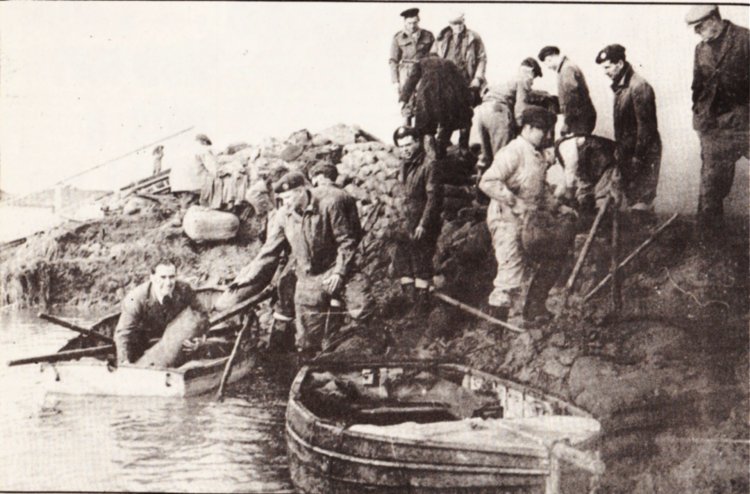 Joy Greenwood – Production Control Clerk – and her Husband George were awakened at about 2p.m. on that fateful Sunday. She woke to the sound of lapping water and as they got out of bed, stepped into water up to their knees. The Children!!—–Panic set in! but all was well their two children, both under the age of two were quite safe although the water was steadily rising. At first they thought a ship had burst through the Sea-Wall. The lights were miraculously still working and they quickly dressed as best they could and started to bail out the un-relenting tide.
When they looked out of the Bungalow they could see that the whole of the surrounding area was completely under water and they were stranded. It was pointless staying, they had the two children to think of didn't they, and they must be the priority now, their best bet was to try to get to high ground.
In those days the footpaths hadn't been laid and the road had been cut through grass banks, the footpath to their Bungalow was now some four feet under water, so they struggled, each carrying a child in one arm and a few possessions in the other hand, up to the top of the bank and walked along until they had to go down into the water to ford the gap between the high bank and then up again to another high bank.
For a 'shortie' – only 5 feet tall – it was a terrifying experience, she was sobbing and her whole body jerked. Joy felt as if it was all, to be their last day on earth.
At this point, as if by a miracle a total stranger arrived on the scene and holding the baby aloft with one hand and supporting Joy's arm with the other, he helped them for some ¼ of a mile, while her husband held the other baby and a few treasured belongings above the water level.
The stranger left them after reaching safety, saying he was going back to find how his family were getting on – They didn't see him again, Don't even know his name but they owe a lot to him for his help in their hour of need.
Having reached the safety of high ground, they were wrapped in blankets and transport was found for them to allow them to be evacuated. Buses had brought in blankets and other comforts, they were then loaded with people to take them off the Island to safety.
Troops and the Airforce were moving hundreds of sandbags to try to stem the breach in the wall, they could see the Sea Wall was no longer there, just a bank with water gushing in through it.
Two vivid memories Joy has, was of dustbins floating past and stranger still, she remembers the loss of her newly delivered 5 cwt of coke, slowly floating around in their garden, held in only by a small fence, funny you may think, or even silly that such insignificant things like this should come to mind with such a disaster all about them.
Joy's only regret is that she lost two good friends in the flood, – The Fosters – but even this sad loss brought about what many still call "The Miracle of Canvey." as their baby – Linda – survived the floods after bobbing around for at least 12 hours in a carry cot before being found!! It is thought that after packing the baby in the cot, the parents just had time to get to the front veranda of their bungalow where Mr. Foster held his wife above his head until he drowned himself. She then sank, too exhausted to fight for life – This was deduced by the coroner from the position of the bodies – Linda, the Miracle baby later worked in the Local Benfleet Branch of Barclays Bank.
Day light saw the true devastation that nature imparted on Canvey. Dead animals which had been caught in the flood were piled at the kerbside; Families were ferried to high ground by Dinghies ; cars were almost completely submerged and the Police and Armed Forces were helping to breach the gaping holes in the Sea-Wails or taking people to Benfleet Station for movement to London. Before official lists appeared, rumours started of who had been lost. A worrying time for all.
On a lighter note, sisters Pam Healey & Glen Williams (both 'Naulls' in those days) remember slightly different anecdotes about the floods of '53.
Pam – Secretary to The Benfleet Quality Manager -remembers the occasion, as at that time she was with some 'Sea-Ranger Friends' working on their boat when news came of the difficulties on Canvey and they were put to work on making hundreds of sandwiches for the hard-working Rescuers.
Telex Operator Glen's only reflection was that as evacuees from the flood were using her school – King Johns, Hadleigh -for an Emergency Rest Centre, administrated by the W.V.S., she was given several weeks off from doing any schooling and as a 'Teen-ager' this was quite a treat for them all.
One unexpected recollection of the East Coast Floods was from Final Inspection Worker – Louise Davis – who, although living many miles away from the disaster, in Harrow, Middlesex, at the time, vividly remembers collections being made for blankets, furniture and warm clothes for the people of Canvey -The old wartime spirit of The London Blitz, when people helped each other, was still about even in 1953 –
Louise remembers it well, as a little while later she was offered a House on The Island and although she was initially reluctant to take up the offer, because of her memories of The Flood, she eventually did and   now lives on the Island very happily.
The toll of damage was accessed in Millions of Pounds, Tens of Thousands of Acres of Land were regained by the Sea. The soil was so contaminated that it took years for gardens to be fit for growing again and tons of Gypum – Hydrated Calcium Sulphate – To be used to restore the soil and tons of grass seed was distributed to The Islanders to help them.
The dedication of rescuers and volunteers and the goodwill of the Public in giving so freely to the less fortunate was a credit to them all. For an all too brief period, the people were united in a common cause, they thought and acted as one. Much was achieved, many acts of personal heroism and sacrifice were committed, sadly so many went unrecognised. But the spirit of the people will always be remembered. What a pity it took a disaster of such magnitude to bring it to the surface.
As a fitting reminder of this disaster of yesteryear The Public House formerly known as 'The Red-Cow' became 'The King Canute' as a reminder that not even Kings can turn back the tide –