Charles Hollingbery Canvey Builder
1909-1996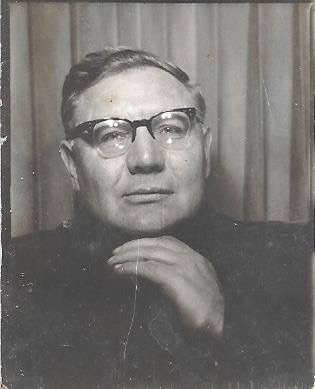 Charles Joseph Hollingbery was born in Bethnal Green on the 4th August 1909. In the 1911 census he is shown as the youngest son of George and Agnes. George was a Boot Manufacturer, a profession Charles was to follow in his early years.
He married Gwendoline Knight in 7th August 1929 at Rochford Registry Office, residing at that time in a Caravan on Canvey Island, his occupation stated as boot repairer. Their first child was born on Canvey Island in October 1930 and was Baptised by Rev Debree in St Katherine's Church in December of that year. The address given for the family was Gladsville, Fairlop Avenue, Charles was still working as a boot maker.
Other members of the family had also moved to the island. Charles' father, George died in 1953, George is stated as living at number 10 The Avenue, Charles and Gwen were living at no. 23.
I have not so far been able to pin down through records when Charles started in the building trade. But by 1958 he was definitely building. He had also moved again to 'Maisonwick' in Furtherwick Road. In the local Captivating Canvey, Hollingbery first advertised his building Company in 1958 and also in the same year a notice regarding land on the Island was in the London Gazzette.
Extract from H. M. Land Registry notices in the London Gazette of 25 November 1958, page 17
(4) Land on N. side of South Parade, Canvey Island,
Essex, by C. J. Hollingbery, " Maisonwyck,"
Furtherwick Road, Canvey Island.

In 1960 he was contracted to build roads on the Charfleets Industrial Estate. About the same time he started one of his major house building projects North of Canvey Road, locally known as the Saints Estate or Charfleet's Housing Estate.
The Industrial Estate was built on part of the Charfleets Farm to the south of Canvey Road. Mr E.E.Lawrence was the Architect who in 1960 contracted Charles Hollingbery to build Charfleets Road and Close and all the associated works. Several years earlier there had been a larger contract to build the service road but it is not Hollingbery who had this job. (see gallery below)
The housing estate was part of Hill Hall Farm, the land owned by Arthur Meyhew Clark. It was arable land made up of Chapel Marsh, Seven Acres, Eight Acres, Reeds and Horse Marsh, as can be seen from the map from 1872. This same area made up the parcel of land bought from the A.M Clark Estate in 1961 by Charles Joseph Hollingbery of 'Maisonwyck', Furtherwick Road, Builder. The first of the homes were started around 1962. (see gallery below)
Cisca House was another of his buildings. In their program for the opening on the 27th September 1969 they mentioned Charles.
The main Contractor for the building was Messrs. C. J Hollingbery Limited, of 'Maisonwyck', Furtherwick Road, Canvey Island and the Committee wish to express their thanks to this Firm and to their Manager, Mr G Wilkinson for the manner in which the Contract has been undertaken.
There are many examples of Hollingbery's homes and buildings across the island. It would appear that it was mainly in the late 50s and 1960s that he was most productive.
In 1962 when Ten Pin Bowling was starting to be all the rage in the UK, Charles was a regular at Basildon and it was here that he became the all time Ten Pin Bowling record holder and player of Britain's first perfect game.
When he retired his family moved to Perranporth, Cornwall where his interest lay in hotel ownership. Charles died on August 9th, 1996.
More will be added later.