The Holiday of a Lifetime.
Come to Newlands this year
Come to Newlands this year. At Newlands you will find all you need for the most memorable holiday you have ever had. Can-vey Island is noted for peak sun­shine hours and Newlands has been planned to give you the ful­lest enjoyment possible from the sunshine of Canvey.
All the camp amenities are here for you to use free of charge. They include heated and filtered Swimming Pool, fully licensed club with ballroom and Mystic African and Fishermans Bars. Dancing rightly to top bands. Cafe, Super­market. Bingo Hall and Amuse­ment Arcade. Betting Office and Hire Shop where you can rent anything.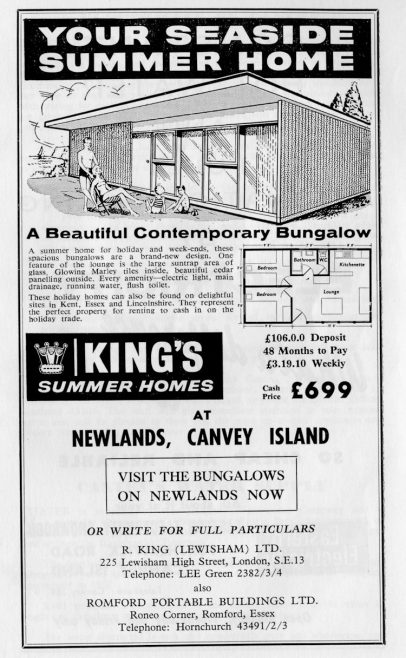 There is also a hot and cold Showerbath block, Laundry and Ironing Rooms. A Children's play ioom in the club with see-saws and swings etc., and where the young ones are under expert supervision. There is also a fully equipped children's playground outside. Fishing Lakes provide enjoyment for the expert and a chance to get acquainted with this sport for the beginner.
A full entertainments pro­gramme of indoor and outdoor events is always in full swing un­der our Resident Entertainments Manager.
Fully licensed bars adults lounge — children's playroom and playground — snack car — dancing to top bands — fully stocked supermarket — full entertainments programme indoor and outdoor large car parks — hot and cold showers — laundry anr ironing room — full size heated and filtered swimpool with underwater lighting ifishing luxurious accommodation with interior sanitation with privacy as in your own home.