Islington School Children On Canvey Island
Essex Newsman, August 1912
There are several pages on this site piecing together the story of the London children camping on the Island around 1912. This article in the Essex Newsman dated 17th August 1912 answers many of our questions.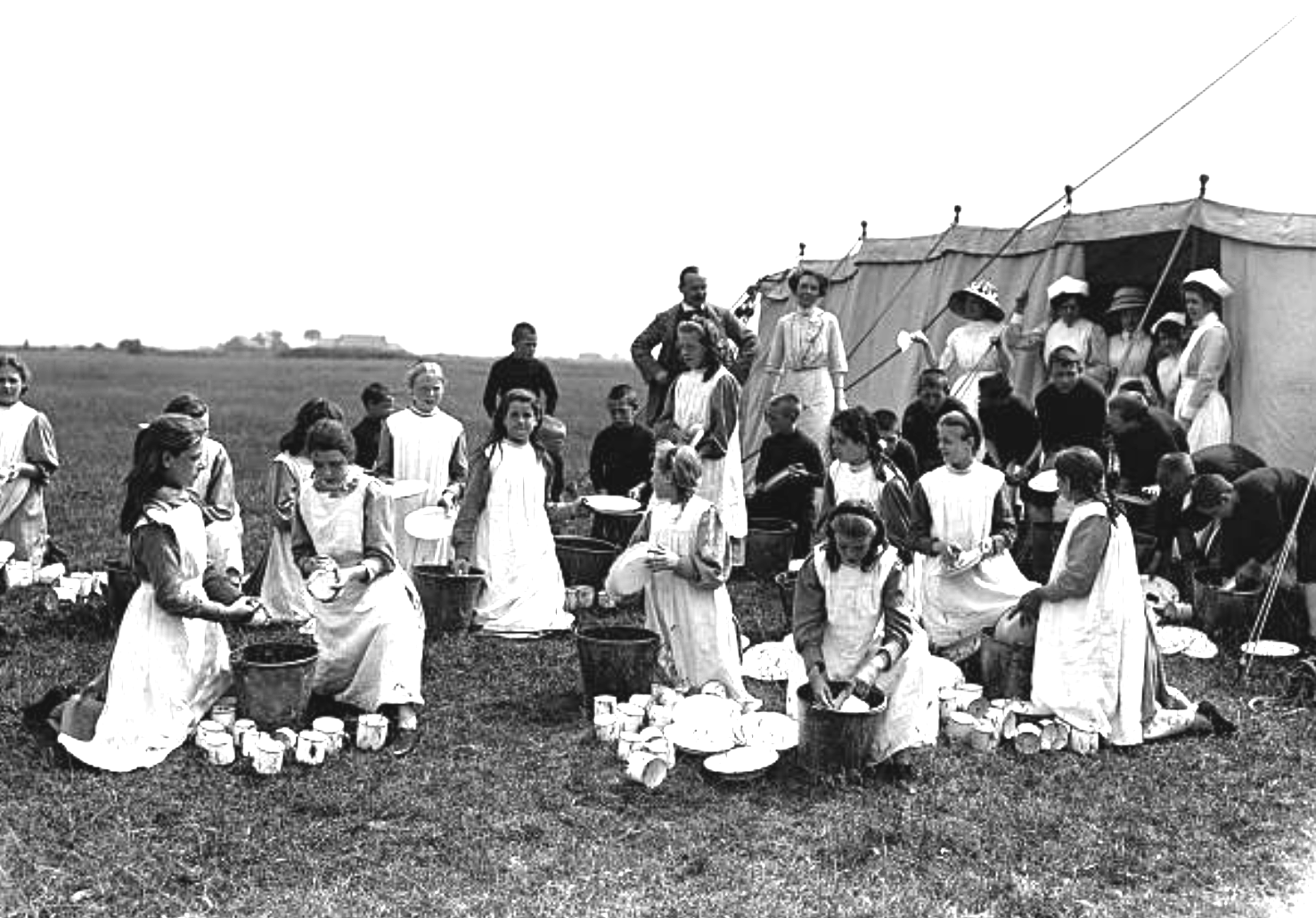 For the sixth time in succession the boys of the Islington Board of Guardians' School have spent their annual three weeks' holiday on Canvey Island. Their stays have been of great value from a health point of view, and each year they have returned delighted with their expe­rience. This fact was an inducement two years ago to send the girls into camp, and the same results have been achieved.
For four years in succession the boys' camp was pitched at Leigh Beck. Owing to a scarcity of water this site had to be abandoned, but through the kindness of the Rev. J. R. Brown, the esteemed vicar of Canvey, who has placed his grounds at the disposal of the Guardians, the chil­dren have been able to continue their visits. The camp consists of twenty bell tents for the boys, three large marquees for the girls, one large tent used as a dining-hall, and three small marquees for the use of the officers. Capital arrange­ments have been made for cooking, etc., the food being well prepared and promptly served in spite of the stormy weather which has so often prevailed. At times it required all the energy of the Master and his staff to keep tents, etc., intact. It is not a light task to take 350 children for a camp out. There is much to organize, and constant attention to detail is needed if the visit is to be successful. All the necessary arrangements have been well planned and carried out by the Master and Matron, Mr. W G .Johnson and Mrs. A. O. Johnson, with the assistance of their staff of male and female officers.
Saturday last was a red-letter day with the children, it being their sports' day and each event was keenly contested, to the delight of a large and appreciative gathering. The Morris dancing by the girls and drills by the boys (especially the flag drill) were much admired, and reflected great credit upon their instructors. Music by the School Band enlivened the proceedings in somewhat gloomy wea­ther, and all appeared in quite a festive mood. At the conclusion the Chairman of the Board, Mr. K. Tomkins, distributed the prizes, and congratulated the chil­dren upon their healthy appearance. He expressed the hope that they would display the same spirit in their future lives as they had shown in their sports, and grow up to be good citizens. That would repay all the efforts made in their behalf. Mr. E. K. Guttendge, chairman of the School Committee, thanked the Master, Matron, and staff for their good work done, and the proceedings concluded by the band playing the National Anthem.
~~~~~~~~~~~~~~~~~~~~~~~~~~~~~~~
More pages about the camp can be seen here