Island Treasure
By Katie Mallett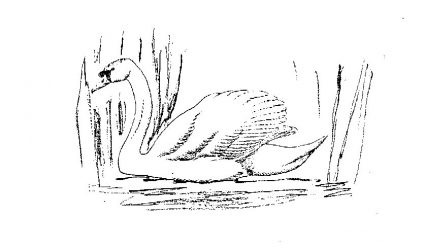 A lake within an Islands,
A treasure at its heart,
A gemstone set in bands of reeds,
A jewel set apart,
With tiger eye of sunset,
And opal glow of dawn,
With sapphire blue of summer skies,
In clasps of rushes borne,
With facets out by mallards,
Engraved by skimming coots,
With moorhens carving cabochons
Round rushes' sunken roots.
A pearl set in a cushion
Of lawns and beds of flowers
That reach down to its beaten bounds,
By shrubby leafy bowers.
It shines in winter's icing
And autumn's shawl of mist,
And springtime's pale green blush of buds,
By summer sunbeams kissed.
In gilded glow of daylight
And starlight's silver sheen,
With life enchanting day and night
A magic world is seen,
With daisy chains of ducklings,
And jets of moorhen young,
With ivory of billowed swan,
And drakes, blue lustered, strung,
And in and out of pond weed
The flash of silver fin
Whilst in the swamps between tall reeds
Jade-backed froglets grin.
Mayflies dance a ballet
And boatmen figure skate,
Dragonflies in sheened display
Whirl round their damp estate.
Moonbeams' hazy spotlights
Reveal a stage patrol
Of spine of hedgehog, brush of fox,
And streak of rat or vole.
And in the twilight shadows
The sounds of walking feet
And rippling laughter stir the air
As youthful lovers meet.
A jewel within an Island,
Lake rippling at its heart,
Oh, treasure this small piece of peace,
From turmoil set apart.