The Epic of a Canvey War Hero
Fred McCave Bulletin December 1983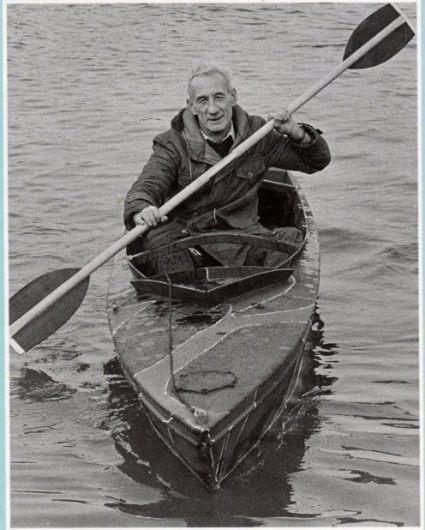 A Canvey war hero – Bill Sparks – received recognition on Sunday when a monument to his exploit and those of 9 others, was unveiled at Royal Marines Dorset. He and Lieutenant Colonel H.G. Hasler were the only two survivors of a daring raid on enemy shipping in Bordeaux. They attended the ceremony. Of the ten who went, six were taken alive by the Germans and after typical German brutal interrogation of two of them, the German Navy provided even more dishonour to their service. Of them two were shot by a naval firing party. It is well that these things are NOT forgotten.
Sir Bernard Braine, Conservative MP for Castle Point, who gave the memorial address on Sunday, told the whole graphic, inspiring and horrific story. Sir Bernard had campai­gned for the monument. He said:-
"Commandant General, Ladies and Gentlemen;
We are gathered here to do honour to the memory of ten Royal Marines who 41 years ago, almost to the day, took part in a daring and successful raid on enemy shipping at the inland port of Bordeaux. There were only two survivors – Major (now Lieut. Colonel) H.G. Hasler, who was in command and Marine W.E. Sparks -both of whom, I am glad to say, are fit and well and are with us here today. Not everyone will be familiar with the story of Operation Frankton. Briefly, this is what happened. On the night of December 7 1942 the raiding party set off in five two-men canoes from H.M. Submarine Tuna which had surfaced in the Bay of Biscay. The raiders' mission was to penetrate enemy defences at the mouth of the Gironde and to paddle over 60 miles up the river, moving by night and hiding by day, to attack German blockade runners at Bordeaux; and then, trusting to fortune, to make their escape over land to Spain. It was a daunting mission calling for cool heads, strong nerves and immense courage, for the area was heavily defended by the enemy.
The going was exceptionally tough – the Bay of Biscay is inhospitable at the best of times. Before entering the Gironde the five frail canoes had to negotiate three unexpect­edly fierce tidal races. Almost at the outset one crew – Sergeant Wallace and Marine Ewart – became separated from the rest. In the early hours of the following morning their canoe capsized; they managed to swim to the shore but were exhausted and taken prisoner. Two others – Corporal Sheard and Marine Moffat – also ran into serious trouble. Their canoe capsized; they were too tried to swim to the shore but were drowned. Lieutenant Mackinnon and Marine Conway also became separated from the others but entered the Gironde success­fully and made their way up river according to plan.
Major Hasler and Marine Sparks, Corporal Laver and Marine Mills, reached the target area safely on the night of December 10/11. Together they   inflicted severe damage on enemy shipping, were not intercepted and withdrew down the river. They then separated and moved inland. Hasler and Sparks, helped by the French Resistance and by a wonderfully courageous British woman, Mary Lindell Madame de MiIlevillie, who operated under the nose of the "Butcher of Lyons", the hated Gestapo chief, Klaus Barbie, had a miraculous escape which in itself is an epic, and finally reached Gibraltar some four months later.
We do not know how or when, but Laver and Mills fell in to enemy hands. As for Mackinnon and Conway they had almost reached the enemy target when their canoe was wrecked. They, too, sought to escape overland but were betrayed to the enemy after seeking treatment for injuries at a civilian hospital. All four were later executed by their captors.
It may seem odd to some people that it is only now, long after the event, we should choose to erect a monument to what these men accomplished and the sacrifice they made. Indeed, when I first inquired about the matter I was told that Operation Frankton was only one of the many daring raids into Nazi   occupied Europe and Japanese occupied South East Asia during the Second World War. Why should it be singled out? What made it so special? There are good answers to these questions.
First, the fact that all this happened a long ago is not important. The passage of time does not diminish the quality of acts of heroism and should not be allowed to dim what is done in defence of our country's safety and honour.
Second, as to whether there was anything special about what happened, we have the testimony of one of our greatest war time Commanders – Admiral Lord Mountbatten – who told us that "of the many brave and dashing raids carried out by the men of Combined Operations Command none was more courageous or imaginative than Operation Frankton. And for full measure the Captain General himself has told us (in the message read to us this morning) "the ten men who took part, have written one of the most glorious pages in the long history of the Royal Marines". That said, it is indeed strange that nothing was done officially to accord special recognition.
There was, of course, Brigadier Lucas Phillip's splendid book published in the early 50's and now out of print; there was even a film; but there was no permanent memorial which would stand for all time here in this country, nothing to remind future generations of what had happened. True, a commemorative plaque has been fixed to the wall of the English Church of St. Nicholas at Bordeaux. Was it then to be said that our French friends have shown greater appreciation of British courage and achievement than our own countrymen?
Nor was that all. There was a deeper reason why we should seek to erect a monument on British soil. History is often distorted, sometimes by malevolence, sometimes by indifference. I was to discover that in this case there was need to put the record straight. For me it began one Saturday morning in 1980 when Bill Sparks, one of my constituents, walked into my local office and told me of his efforts over many years to get some recognition for his dead comrades, of how he had encountered opposition on the grounds that nothing was known of what had happened to those who had fallen into the hands of the enemy and were subsequently executed. Bill Sparks told me he knew that this was not true of two of them — Wallace and Ewart – for he himself had attended a War Crimes Trail in Hamburg soon after the war when one of Hitler's Staff Officers was charged with their murder and gave evidence.
What happened was this. On being informed of the capture of Wallace and Ewart, the German Naval Commander, an Admiral, ordered their immediate execution in accordance with Hitler's infamous Commando Order issued only a few week's earlier. This had laid down that all enemy commandos, whether in uniform or not, armed or unarmed, were to be exterminated without mercy. As Hasler's men all wore uniform bearing the Royal Marines' shoulder title and Wallace's chevrons were clearly visible, such an order was contrary to the established laws of war and to the Hague Convention. In this case the order was modified by Hitler's head­quarters only to permit the interrogation of Wallace and Ewart before execution with the object of extracting from them the maximum information. We do not know what agonies these two young men endured at the hands of their interrogators before they were shot by a naval firing squad. But we do know from the evidence given at the trial that they gave no information of any use to their captors. We do know that they went to their deaths with a courage that evoked the admiration of their executioner. We do know that had they broken they would have jeopard­ised the success of Operation Frankton, and that by their silence and by their fortitude they helped to ensure its success. They were faithful   unto death. Yet the facts were all there in the official file embargoed for some inexplicable reason until the mid I980's.
When I read the file it was clear to me that something had to be done to ensure that what this gallant band did all those years ago should be remembered in tangible form for all time. We set up a steering committee, composed of former Royal Marines serving in the House of Commons, and launched our appeal for funds to erect a public monument. We were taking up station on a principle. It is not given to men to choose their battlefields the fates do that for them. But once there they can make a stand and give of their best, not counting the cost. And sometimes this leads as it did with Hasler's gallant band, to a display of courage of the highest order. What brings this about? Discipline, training, comradeship, some inner moral strength that was always there but had never previously had opportunity for expression? Who knows? Who can explain such things? We can only recognise courage when we see it in action.
And when that happens it makes a signal to the rest of us, not only to the living but to those yet unborn. It adds a new chapter to the great book of British achievement, a new thread to the rich tapestry of British tradition. It provides for us all an example of what, in times of acute danger, we might ourselves hope to be. For the sake of such men and for our own sakes too, it is essential to know as far as it is humanly possible what actually happened, and it is our duty to put the record straight and to keep it in some permanent form for future generations.
That is what this monument is about. Why did we choose to site the monument on this spot? We felt it was only fitting that it should stand here at Poole-the home of the Special Boat Squadron of the Royal Marines, particularly so because the example of courage and daring set all those years ago by the Cockleshell Heroes has been followed since by other young Royal Marines in operations around the globe. Nowhere was this better exemplified than by those who made up the small boat patrols who covered themselves in such glory in the forbidding waters around the Falklands last year. Long may it be that whenever our country faces external threat such men will be found. That, too, is what this monument is all about".
The ceremony took place on Sunday, December 11, 1983