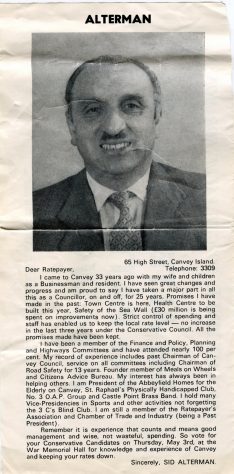 65 High Street Canvey Island.
Telephone: 3309
Dear Ratepayer,
I came to Canvey 33 years ago with my wife and children as a Businessman and resident. I have seen great changes and progress and am proud to say I have taken a major part in all this as a Councillor, on and off, for 25 years. Promises I have made in the past: Town Centre is here, Health Centre to be built this year, Safety of the Sea Wall (£30 million is being spent on improvements now). Strict control of spending and staff has enabled us to keep the local rate level — no increase in the last three years under the Conservative Council. All the promises made have been kept.
i have been a member of the Finance and Policy, Planning and Highways Committees and have attended nearly 100 per cent. My record of experience includes past Chairman of Can­vey Council, service on all committees including Chairman of Road Safety for 13 years. Founder member of Meals on Wheels and Citizens Advice Bureau. My interest has always been in helping others. I am President of the Abbeyfield Homes for the Elderly on Canvey, St. Raphael's Physically Handicapped Club, No. 3 O.A.P. Group and Castle Point Brass Band. I hold many Vice-Presidencies in Sports and other activities not forgetting the 3 C's Blind Club. I am still a member of the Ratepayer's Association and Chamber of Trade and Industry (being a Past President).
Remember it is experience that counts and means good management and wise, not wasteful, spending. So vote for your Conservative Candidates on Thursday, May 3rd, at the War Memorial Hall for knowledge and experience of Canvey and keeping your rates down.
Sincerely, SID ALTERMAN.