Canvey Island As An Ideal Residential Centre
The Fielder Estates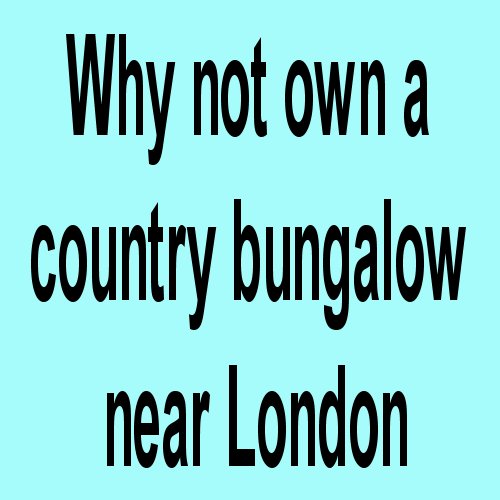 There is little doubt in the minds of those who are in position to judge, that Canvey Island is the coming favourite residential centre of South-East Essex.
Situate in the mouth of the Thames, with several miles of sea shore, its quaint character of scenery, unlike almost any other English landscape and with a charm peculiarly its own, its wonderful health-giving and invigorating sea air, richly laden with ozone, it provides the ideal spot for those whose business is in towns and who appreciate the advantages of living away from the crowded centres of population.
Realising that there are many who will be glad to avail themselves of the opportunity to enjoy the delights of a country home by the sea within easy reach of their business, we are now developing three large estates in the best positions on Canvey Island, and where residences with every modern comfort, labour-saving device and convenience, can be secured on terms to suite every purse. The number will be limited, and it will prove well worth your while to pay a visit to Canvey and inspect our buildings, as the demand for them is rapidly growing even before this book is off the press.
Clifton Estate
Extending from the main London Road to the River front.   The leading thoroughfare, Runnymede Road, leads to Thorney Creek, an inlet on the Island foreshore, which forms a natural  harbour  suitable  for  light sailing craft. Splendid, safe sea bathing can be indulged in here, and all the delights of an unspoiled sea shore enjoyed.
This estate is being developed for those who desire a larger and more commodious residence than is offered on the two estates particularised below, and a good variety of designs is obtainable.
Labworth Farm Estate
This is unquestionably the finest and most favoured quarter of Canvey Island, as whilst it has practically immediate access to the main thoroughfares, it is situate on the sea front and only a minute's walk from the magnificent Shell Beach, which is Canvey's chief sea beach.
Bungalows on this Estate are available from £350 freehold.
Southwick Estate
Bungalows on this Estate are designed to meet the requirements of those who desire to acquire a country home at the seaside at a moderate cost. Buildings with many con­veniences and freehold land from £225 inclusive.
Centrally situate, fronting the main road of the Island, and commanding fine views of the Essex and Kent mainlands.
Situation and Accessibility
Canvey Island is only 29 miles by rail from London (the station is Benfleet on the L.M. & S. Railway), and is London's nearest seaside, and a good train service makes it easily accessible from all parts of the Metropolis in as short a time as many of the outer suburbs of London.
The railway fares are extremely cheap, the season ticket rates between Benfleet and London being:—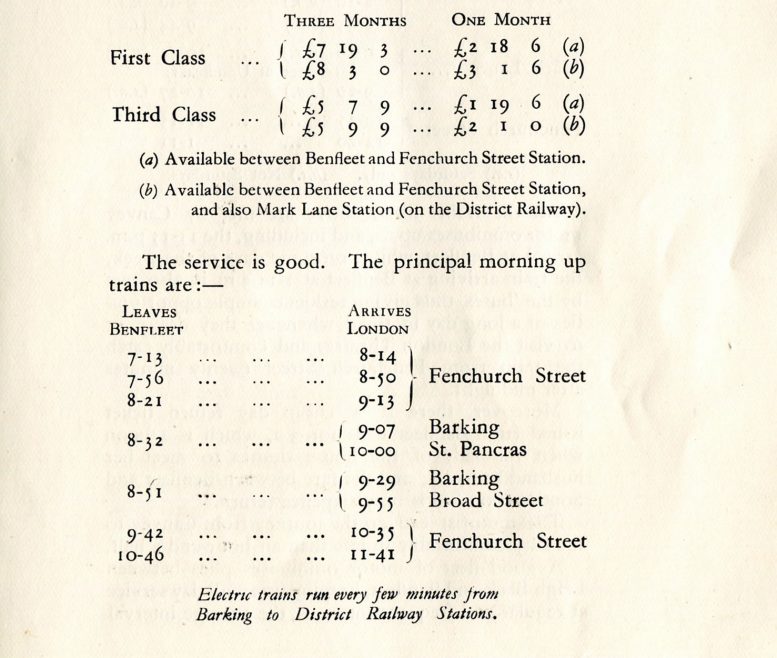 and the principal evening down trains :-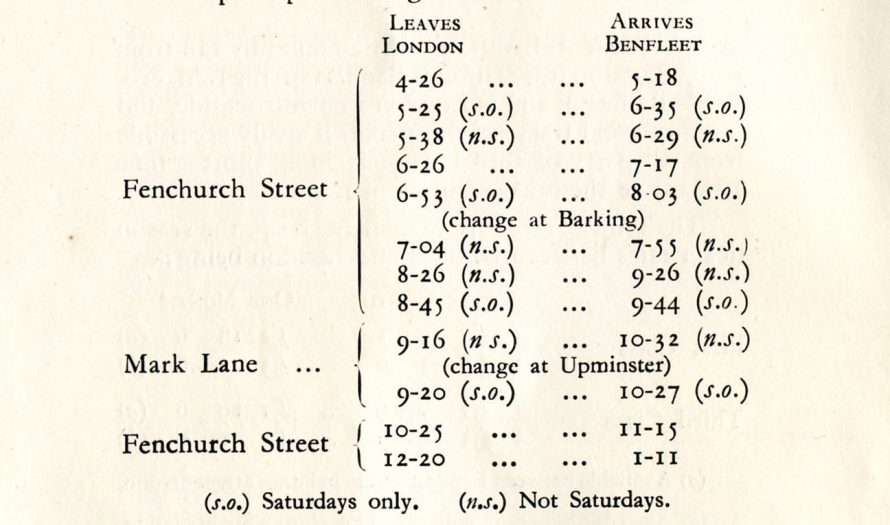 All the trains listed above are met by Canvey motor omnibuses up to, and including, the 11-15 p.m. arrival at Benfleet, whilst, on some days of the week, the train arriving at Benfleet at 1-11 a.m. is also met by the 'buses, thus giving residents ample opportuni­ties of a long day in town whenever they desire, or to visit the London Theatres and comfortably catch the train from Fenchurch Street twenty minutes after midnight.
Moreover, there is a cheap day return ticket issued from Benfleet daily for 3/2, which is a boon when the lady of the house desires to meet her husband in town; and the fare between Benfleet and Southend-on-Sea is only sixpence return.
The motorist can do the journey from Canvey to the City comfortably in less than an hour and a half.
A good fleet of motor omnibuses plies between Leigh Beck and Benfleet, keeping up an all day service at regular and frequent intervals, the average interval
being only a quarter of an hour, whilst during the summer season, a continuous five minutes' interval service is maintained. The fares are by stages, and residents who go to town daily can get specially reduced weekly tickets.
The main road, which traverses the Island from Benfleet to Leigh Beck, provides a 20 feet concrete carriage way, built in the latest methods of road con­struction, with a footpath on each side.
Canvey Island is in the Thames Estuary, and is about five miles in length and zl miles in greatest width, with an area of over 4,000 acres. It is only divided from the Essex mainland by a narrow strip of water called Hadley Ray, and a bridge over this is now built, and is open to traffic. The bridge carries two lines of vehicular traffic, the width of the carriage way being 20 feet, and there is a five feet footway.
The extraordinary health-giving and invigorating properties of Canvey air, which are so well under­stood by the medical profession which constantly recommends the Island to those in need of recupera­tion, are due to the fact that twice a day the tide flows and covers the large areas of marsh lands which are outside the wall surrounding the Island (" salt­ings," as they are so descriptively called), and, when the tides recede, the evaporation from these " saltings ' charges the air with ozone, which is thus regularly renewed and freshened by each tide. So Canvey is surrounded by a belt of always fresh ozone, such as very few other places in the Kingdom enjoy. No ordinary seaside town is so well favoured; instead of Canvey having ozone on one front only (the sea front), it is completely encircled by this life-giving air. Fortunate is the man who can settle on the Island, establishing his family in such a health-giving atmos­phere, and being able to refresh himself each night after the day's work in town, and to spend his week­ends in a delightful and bracing home by the sea.
A physician of long standing has stated that " The air of Canvey Island is extremely salubrious, clean, clear and bracing. It is especially suitable for those who suffer from neurotic troubles and from consumption, scrofula, asthma and rheumatism. It is well adapted for those desiring a rest cure, and for all complaints for which sea bathing is indicated, while it is a notable fact that its residents are long-lived and active beyond their years, and that the death rate of the Island is low."
The Island is sheltered on the North-west and the North by the hills of Laindon, Benfleet, Hadleigh and Leigh-on-Sea, and it is amazing how much rain it escapes by these protections, whilst it enjoys an extremely generous share of sunshine. It is quite common to leave Canvey bathed in genial sunshine, and, in travelling to London to run into dull weather, rain, and, in the later months of the year, fog. At such times, although the Canvey resident, who has to go to town to do his business, is to be sympathised with because he has to leave Canvey, yet he has had his refreshing draught of pure morning sea air to cheer and fortify him for his day's work, and he is comforted by the knowledge that his wife and children are left at home to enjoy the invigorating climate that is Canvey's own peculiar possession.
And Canvey children where in all the Kingdom, can such healthy, strong and vigorous humanity be seen? Ask any mother on Canvey and you will hear a rhapsody upon what Canvey air has done for her youngsters. If health could be stated in terms of wealth (which it cannot, of course), Canvey air is more valuable than "a King's ransom" to children. Canvey children are all tributes to the marvellously healthy properties of Canvey air; strong and sturdy, and brimming over with energy and good spirits. If you are a family man, you cannot afford to miss visiting Canvey to experience for yourself its wonderful air. You will be depriving your children of the greatest benefit in life—the opportunity of building up their constitutions and endowing them with robust health—if you do not investigate the residential advantages of the Island.
There is a charming freedom in Canvey life. The conventions and artificial restraints of town life can be cast aside ; the children (and grown-ups who will equally appreciate it) can indulge in unfettered liberty on beach and fields; the advantages of seaside and country are combined. And there is always the constant procession of vessels of all sizes passing on their voyages to all the seas of the world, or returning home from distant climes, which offer a fascinating spectacle to old and young alike. At most seaside places ships pass almost on the horizon, and too far off to engage interest from those ashore. At Canvey it is different (everything is different at Canvey, as you will delightedly agree when you come to live amongst us), as every vessel to, or from, the ports of London must pass close to the Island. What an inspiring sight to see one of the few remaining sailing ships, with all canvas spread, the sun catching the sails and dazzling the eye with their brightness, or, in the evening, to watch from your window a monster ocean-bound boat, with its tiers of lights streaming out and giving the appearance of a floating city.
Social Life and Amusements
The list of institutions, etc., on page 18 of this book, gives some indication of the many forms of social intercourse the Island community offers, whilst there are, also, the following chief outdoor recreations.
Bathing.—Excellent, safe sea bathing from a clean stretch of natural, powdered shell beach, sloping very gradually.
Boating.—Good, with plenty of accommodation in the creeks for harbour.
Cricket and Football.—Local teams for both games.
Fauna and Flora.—The nature lover will find abundant interest and occupation, as the sea shore, and the numerous creeks and "guts," teem with marine fauna and flora. The "saltings" are covered with typical marsh flora, so that, from June onwards, they are rarely without colour. Sea lavender can be gathered in plenty, the Sea Aster, the Teazle, and many beautiful grasses. The Litchens on the sea wall are full of interest; cockles, mussels, crabs, and numerous other forms of life, and, sometimes, even oysters can be found, one variety of oyster being peculiar to Canvey and named after it " Ostrea canveyensis."
Bird life is plentiful and varied, the list (residents, visitors and migrants) including some very uncommon species.
Golf.—There is not yet a course on the Island, but two good courses near—Boyce Hill Golf Club, near Benfleet, and Bowers Gifford Golf Club, between Benfleet and Pitsea.
Shooting.—Good sport to be had in season.
Tennis —A local club and several courts, including hard courts.
Yachting.—Unsurpassed facilities. A centre at Hole Haven, and headquarters of a yachting club in Hadley Ray.
Hunting.—Essex Union Foxhounds (Billericay). Essex Foxhounds (Harlow).
Dancing.—Dances are held at the numerous Social Clubs on the Island. There are two Dance Clubs.
To come now to the severely practical side of Residential Advantages
Shopping.—The Island is well supplied with shops, where all the requirements of the average family can be obtained at prices which compare favourably with those of other towns and districts. You will find the shopkeepers quite up-to-date in their methods, and desirous of assisting their customers in every way. Most of the shops have the telephone installed, so that shopping can be done by 'phone as conveniently as in the large towns.
Water.—The mains are laid on all the "Fielder Estates," and the water supplied to the Island is ample in quantity, bright, pure and wholesome, and of a moderate hardness.
Lighting. — All buildings on the "Fielder Estates," are fitted for electric current for power heating and light.
Sanitation.—The "Fielder Estates" houses are fitted with water flush closets, or modern chemical closets which are the most appropriate for rural districts.
Educational Facilities.—There is a first-class public Elementary School with a teaching staff equal to any in the County, and another school is to be built shortly. There are also private schools on the Island, and secondary education is available at Leigh-on-Sea, Westcliff and Southend-on-Sea.
Soil.—Clay and extraordinarily prolific. A most gratifying display of flowers, fruit and vegetables will reward the efforts of those whose hobby is gardening.
Rates.—General rate 5/6 in the £ for the half-year. A special rate levied for the up-keep of the sea wall is practically nominal, the rate for 1930 being only 1/9 in the £ for the whole year. Assessments to rates are the lowest throughout this part of Essex.
­