Harry Rows them to Safety
Daily Sketch Feb 2nd, 1953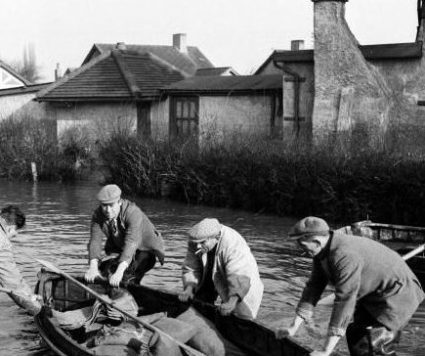 By John Rydon, Daily Sketch Reporter
It was a one-man Dunkirk for old soldier 61-year-old Harry Lake yesterday. His effort in a tiny canvas boat saved nearly a dozen people from drowning on devastated Canvey Island, Essex.
As the flood waters rose fitter's mate Harry, who had never been in a boat before, rowed to rescue frantic people from their homes.
Last night I found weary Harry slipping from the disaster area on the last bus to Southend.
Collarless and with his old brown cap askew on his fur­rowed forehead, this old soldier (ex-Essex Regiment) told me: "When I saw the water all round and heard people shout­ing I thought I had better do something quickly. I got the boat from a yard nearby. Whenever I heard anyone calling for help I rowed to them. I have never rowed before, so I fell in once when the boat capsized. Another time I lost an oar. I took a woman of 70 and her 40-year-old daughter out first."
Mr. Lake took the rescued people to his bungalow, on high ground untouched by the flood.
There his wife gave them tea, and dried their clothes.