Divorce at Concord
Essex Chronicle December 1927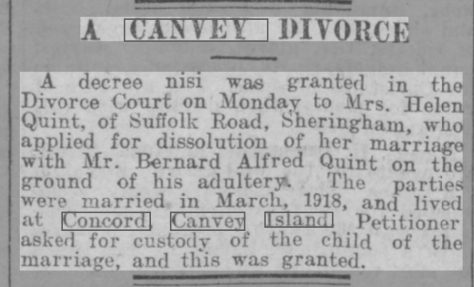 A Canvey divorce.
A decree nisi was granted in Divorce Court on Monday to Mrs. Helen Quint, of Suffolk Road, Sherringham, who applied for dissolution of her marriage with Mr. Bernard Alfred Quint on the ground of his adultery. The parties were married in March, 1918, and lived at Concord, Canvey Island. Petitioner asked for custody of the child of the marriage, and this was granted.
---
The above information led us to investigate the family, with a name like Quint it should be easy. Bernard Alfred Quint was born in 1888 at Finsbury, North London, to Ernest and Frances Quint. Ernest, a tailor's cutter, was born in Germany and was Naturalised in 1903 where his four children including Bernard were listed on his documents. Ernest married his wife Frances Elizabeth Lee in Shoreditch in early 1888.
The family lived in various places in the area of Hoxton/Stoke Newington. In the 1901 census they lived in Kynaston Road, Stoke Newington and In 1896 Bernard was enrolled in the local Oldfield Rd School (later known as Daniel Defoe School) which had opened in 1882. Bernard went on to be an electrician as noted on the 1911 census when the family lived in Hendon.
The next part of the story relates to the approximate time Bernard lived on Canvey and his connection to Concord House. Bernard had married his wife Helen O'Neill in 1916 in Marylebone, London not 1918 as stated in the article above. Their son (who is mentioned in the above article) Bernard H J was born in Willesdon in 1918. It was in February 1918 that Bernard was initiated into the Adelphi Lodge of the Freemasons and he stated his residence as Dollis Hill (nr Willesdon) and his occupation was Electrical Engineer.
So it was sometime after this they moved to Canvey and Concord House. The article about the divorce dated 1927, does not say if Bernard is still living at Concord but his wife was not she was at Suffolk Road. (Was this Canvey?)
Bernard went on to marry Florence Celia Carrington in 1928 this was in the Rochford District but not Canvey. Likely to be the Registry Office as he was divorced.
In 1929 an application by Bernard was made to the Patent Office (See below) something to do with camera's and photos. Unfortunately it does not give his address.
In 1939 he was at Edith Road, Southend on Sea. He died in 1944 at Little Stanmore, Harrow. His wife, Florence, was granted probate soon after.
Perhaps in time we can fill in the gaps around his time on Canvey.