Sexton Blake and the Canvey Connection
1899-1918
Sexton Blake is a fictional detective who appeared in British comic strips and novels from 1893 to 1978, with over 4,000 stories. He was also in numerous silent and sound films, radio and a television series. He has been described as 'the poor man's Sherlock Holmes'. During my investigations I have found that he also 'visited' Canvey Island! In 1899 in 'The Secret Hand' he was held prisoner on Canvey Island. He visits Canvey twice in 1918 in 'The case of the Stolen Heirlooms', namely the Canvey Diamonds and 'A Mystery of the line'  where he is led to a secluded and empty cottage on Canvey Island once again on the trail of Diamonds!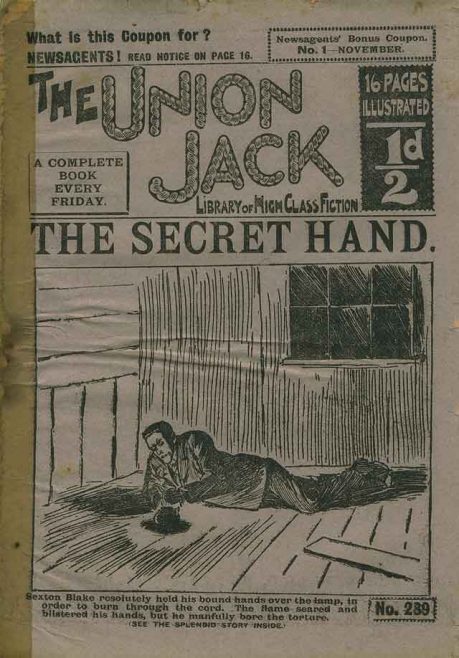 UNION JACK · 1st series · Issue 289 · 4/11/1899 · Amalgamated Press · ½d
THE SECRET HAND
by William Shaw Rae · Illustrator: Unknown
Other content: Dick Valling's Adventures by H. S. Warwick; From the Quarterdeck (ed.)
Notes: Sexton Blake is in Leeds to keep an appointment with a moneylender named Moses Leech. In the office, he meets Charley Everton (who he first met when Everton was a boy in Bravo Blake!, UNION JACK 1st series issue 138, 1896). The young lad, now in the army, has been maneouvred into a hefty debt with exorbitant interest. Even worse, he has forged his brother Harry's signature as guaranteur. Blake promises to help him, then goes on into Leech's office for the appointment. The moneylender wants him to act as courier, bringing a twenty-thousand pound diamond necklace up from London. Blake accepts the commission on the grounds that it might help him to investigate Leech. He travels back to London and sends We-wee to Leeds to keep an eye on Leech. After picking up the necklace, Blake is attacked by a gang of thieves and held prisoner on Canvey Island off the Essex coast. He manages to escape from most of the gang in a small boat but not from the leader who jumps aboard just as the craft drifts away. Taken by the tide out to sea, the pair spend a perilous night together before being rescued by a steamer. In Leeds, We-wee, after spending time studying Leech, befriends his alcoholic clerk and manages to get the man to reproduce the bill recently served to Charley Everton. Later, the Chinese lad makes an exact copy of this reproduction with one exception: he makes it for £150 rather than £500. He then has Everton sign the bill. Next, he disguises himself as Leech, tricks the clerk into opening the moneylender's safe, and swaps the real bill for the forgery. The next day, Blake arrives in Leeds and, with Everton, confronts Leech and demands the bill. When it is handed over, Everton pays it in full, much to the astonishment of Leech who receives a fraction of what he'd expected. Blake then delivers the necklace, which, as he had always suspected, is a fraud. He exposes Leech's attempt to cheat the insurers and the villain is arrested.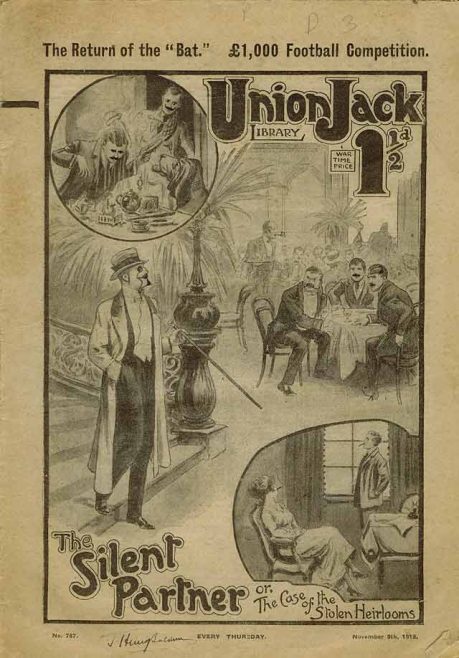 UNION JACK · New series · Issue 787 · 9/11/1918 · Amalgamated Press · 1½d
THE SILENT PARTNER; OR, THE CASE OF THE STOLEN HEIRLOOMS
by Anon. (Robert Murray Graydon) · Illustrator: Unknown
Other content: The Red Raiders! by Anon.
Notes: Four months ago, Dirk Dolland gave himself up to the police to save the reputation of Detective-Inspector Coutts . Since then, he has resided in Moorlands Prison. But now, the priceless Canvey diamonds have been stolen and a card signed ' The Bat ' is left behind. Sexton Blake believes that Dolland's partner, Mademoiselle Mignon aka The Butterfly , is responsible. Later that afternoon, Coutts turns up at Baker Street bearing a written invitation for himself and Blake to dine with The Bat. They keep the appointment and are astonished to find themselves with Dirk Dolland, a man they know for sure to be in prison. Coutts arrests him and they all go to Scotland Yard where Dolland's identity is confirmed by fingerprints. Coutts is sent by Sir Henry Fairfax to inspect the 'other Dolland', so he and Blake travel to Moorlands Prison where, to their complete amazement, they find their man – every bit as genuine as the one they left in London. The two detectives board a train back to the city with Dolland handcuffed to Coutts. They are taking him back so that they can examine the 'two Bats' side by side. Much of the rest of the train is filled with a theatrical company, touring a play named 'Convict 77′, which, by coincidence, is Dolland's prison number. Upon arrival at Paddington, the carriage doors open and a swarm of men dressed in prisoners' uniforms swarm out, engulfing Blake, Coutts and Dolland. In the confusion, the handcuffs are cut and The Bat vanishes into the throng. Blake realises that they've been bamboozled by a clever scheme dreamed up by The Butterfly to secure Dolland's release. Tinker falls foul of the escapee and finds himself accompanying The Bat and The Butterfly as they flee to Dover. He listens as the lady crook reveals how she trained a man to impersonate her partner and how the fingerprints had been faked. Then he is dropped of by the roadside and watches as the car drives the pair off to freedom.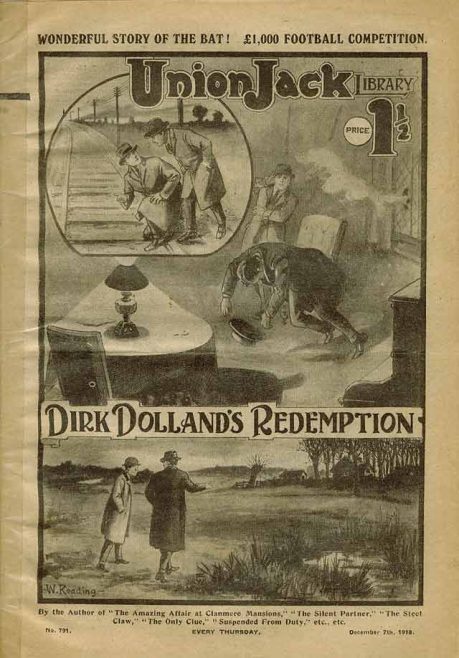 UNION JACK · New series · Issue 791 · 7/12/1918 · Amalgamated Press · 1½d
DIRK DOLLAND'S REDEMPTION; OR, A MYSTERY OF THE LINE
by Anon. (Robert Murray Graydon) · Illustrator: W. Reading
Other content: A Conspiracy at Sea (Nelson Lee) by Edwy Searles Brooks; The Headless Robin (Nelson Lee) by Edwy Searles Brooks.
Notes: This can be considered the first part of the largest Sexton Blake story arc ever: the Criminals' Confederation . A man is hit by a train but Sexton Blake deduces that he was dead already – it's a case of murder. Hidden in the man's clothing, he finds a priceless diamond earring. Footprints at the scene lead him to a secluded and empty cottage on Canvey Island. There, he finds the stub of a cigarette – the scarce brand smoked by Dirk Dolland aka The Bat . A bullet crashes through the window and creases the detective's skull. Tinker pursues two men, one of whom he recognises as Dolland. They get away in a boat. Back at Baker Street Blake uses a secret phone number once given to him by Dolland to try to make contact with the master cracksman. His call is answered by Mademoiselle Mignon who worredly admits that Dolland is missing. Detective-Inspector Coutts arrives and informs Blake that the dead man has been identified as a lawyer named Lewis Rogers. He used to work for Lord Dunton, who turns up as Blake's next visitor. The Lord explains that the famous Dunton diamonds had always been kept in Roger's safe but when Dunton had decided to sell them the lawyer had been very reluctant to hand them over. Eventually he did and Lord Dunton took them away only to discover that they were imitations. Later, Lord Dunton reports that his wife has disappeared. Blake tracks her to Dover where she confesses that she had had the fake diamonds made while she pawned the real ones to cover her gambling debts. She's conspired with Dolland to try to cover up her indiscretion but it all went wrong when Rogers was killed and the real diamonds stolen. Sexton Blake returns to Baker Street and finds Dirk Dolland waiting for him. The Bat hands over the diamonds which, at great personal risk, he has retrieved from the man who stole them. This man was also responsible for the murder -and his name is Mr Reece ! The criminal master-mind had escaped from Dolland on a tugboat which was then wrecked at sea with all hands presumed lost. Mr Reece, it would seem, is dead.
More can be found about Sexton Blake on Mark Hodder's Blakiana site. Site no longer available.