Canvey Walks and Rambles
Captivating Canvey 1948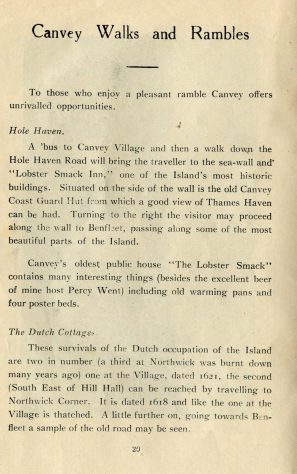 To those who enjoy a pleasant ramble Canvey offers unrivalled opportunities.
Hole Haven.
A 'bus to Canvey Village and then a walk down the Hole Haven Road will bring the traveller to the sea-wall and" "Lobster Smack Inn," one of the Island's most historic buildings. Situated on the side of the wall is the old Canvey Coast Guard Hut from which a good view of Thames Haven can be had. Turning to the right the visitor may proceed along the- wall to Benfleet, passing along some of the most beautiful parts of the Island.
Canvey's oldest public house "The Lobster Smack" contains many interesting things (besides the excellent beer of mine host Percy Went) including old warming pans and four poster beds.
The Dutch Cottage.
These survivals of the Dutch occupation of the Island are two in number (a third at Northwick was burnt down many years ago) one at the Village, dated 1621, the second (South East of Hill Hall) can be reached by travelling to Northwick Corner. It is dated 1618 and like the one at the Village is thatched. A little further on, going towards Ben-fleet a sample of the old road may be seen.
The Old Barn and Leigh Beck.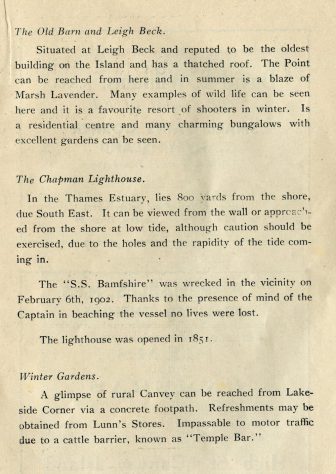 Situated at Leigh Beck and reputed to be the oldest building on the Island and has a thatched roof. The Point can be reached from here and in summer is a blaze of Marsh Lavender. Many examples of wild life can be seen here and it is a favourite resort of shooters in winter. Is a residential centre and many charming bungalows with excellent gardens can be seen.
The Chapman Lighthouse.
In the Thames Estuary, lies 800 "yards from the shore, due South East. It can be viewed from the wall or approached from the shore at low tide, although caution should be exercised, due to the holes and the rapidity of the tide com­ing in.
The "S.S. Bamfshire" was wrecked in the vicinity on February 6th, 1902. Thanks to the presence of mind of the Captain in beaching the vessel no lives were lost.
The lighthouse was opened in 1851.
Winter Gardens.
A glimpse of rural Canvey can be reached from Lake­side Corner via a concrete footpath. Refreshments may be obtained from Lunn's Stores. Impassable to motor traffic due to a cattle barrier, known as "Temple Bar."