Bid to halt yacht clubs new jetty
Residents start petition to block £14,000 project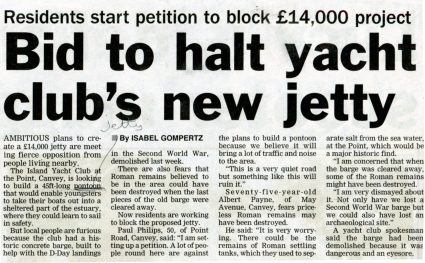 Ambitious plans to cre­ate a £14,000 jetty are meeting fierce opposition from people living nearby.
The Island Yacht Club at the Point, Canvey, is looking to build a 45ft-long pontoon that would enable youngsters to take their boats out into a sheltered part of the estuary, where they could learn to sail in safety.
But local people are furious because the club had a his­toric concrete barge, built to help with the D-Day landings in the Second World War, demolished last week. There are also fears that Roman remains believed to be in the area could have been destroyed when the last pieces of the old barge were cleared away.
Now residents are working to block the proposed jetty.
Paul Philips, 50, of Point Road, Canvey, said: "I am set­ting up a petition. A lot of peo­ple round here are against the plans to build a pontoon because we believe it will bring a lot of traffic and noise to the area. "This is a very quiet road but something like this will ruin it."
Seventy-five-year-old Albert Payne, of May Avenue, Canvey, fears price­less Roman remains may have been destroyed. He said: "It is very worry­ing. There could be the remains of Roman settling tanks, which they used to sep­arate salt from the sea water, at the Point, which would be a major historic find. I am concerned that when the barge was cleared away, some of the Roman remains might have been destroyed. I am very dismayed about it. Not only have we lost a Second World War barge but we could also have lost an archaeological site."
A yacht club spokesman said the barge had been demolished because it was dangerous and an eyesore.