So why all the argy-bargy?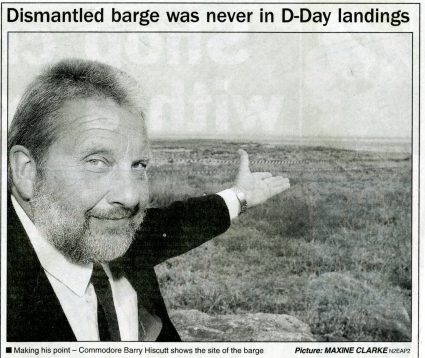 A dismantled barge, which Canvey folk claimed was a piece of island history, is noth­ing more than an old fuel carrier, it has been revealed.
The breaking up of the concrete vessel caused an outcry after island histori­an Len Barge claimed it was used in the D-day land­ing.
In wake of the claim, there were even calls for Castle Point MP Bob Spink to give up his honorary membership of the Island Yacht Club, at the Point.
However, Barry Hiscutt, commodore of the club next to where the barge once was, said people have got it wrong. Mr Hiscutt, 53, said: "They need to get their facts straight. All this talk of this being a historic barge which was used in the D-day landings is just a load of old nonsense. I have been inundated with phone calls over the last few days from people who are not happy about the barge being destroyed, but the facts are it was just an old fuel barge which had had its day. I should know the facts behind it, after all I am the commodore of the yacht club, and it has no histori­cal significance. In fact, if you go to the river Medway in Kent there are still about 50 identical barges there."
Mr Hiscutt, of Geylen Road, Canvey, said the main reasons it had to go was it had become a danger to youngsters and, in recent years, a den for drug takers. He told how it was bought in 1948 by the Canvey Canoe Club which used it for storage for a few years, since then it has been left to rot.
However, an adamant Mr Barge, 70, said: "The commodore has got it wrong. The barge and many like it were made some­where along the east coast of England, brought down to the south coast and* then taken across the English channel to Normandy. There they were sunk on the beaches and used as jetties for the soldiers at the D-day landing."