Planning approval sinks jetty protest
Residents unhappy over go-ahead for a floating platform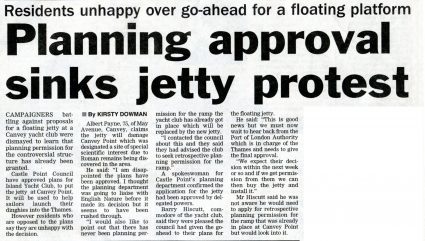 Campaigners bat­tling against proposals for a floating jetty at a Canvey yacht club were dismayed to learn that planning permission for the controversial struc­ture has already been granted.
Castle Point Council have approved plans for Island Yacht Club, to put the jetty at Canvey Point. It will be used to help sailors launch their dinghies into the Thames.
However residents who are opposed to the plans say they are unhappy with the decision.
Albert Payne, 75, of May Avenue, Canvey, claims the jetty will damage Canvey Point which was designated a site of special scientific interest due to Roman remains being dis­covered in the area.
He said: "I am disap­pointed the plans have been approved. I thought the planning department was going to liaise with English Nature before it made its decision but it seems to have been rushed through.
"I would also like to point out that there has never been planning per­mission for the ramp the yacht club has already got in place which will be replaced by the new jetty.
"I contacted the council about this and they said they had advised the club to seek retrospective plan­ning permission for the ramp."
A spokeswoman for Castle Point's planning department confirmed the application for the jetty had been approved by del­egated powers.
Barry Hiscutt, com­modore of the yacht club, said they were pleased the council had given the go-ahead to their plans for the floating jetty.
He said: "This is good news but we must now wait to hear back from the Port of London Authority which is in charge of the Thames and needs to give the final approval.
"We expect their deci­sion within the next week or so and if we get permis­sion from them we can then buy the jetty and install it."
Mr Hiscutt said he was not aware he would need to apply for retrospective planning permission for the ramp that was already in place at Canvey Point but would look into it.