Christmas's Past
written by Doris Flaherty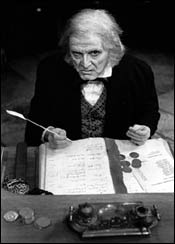 HUMBUG   That is what Scrooge, the miserable old miser in Charles Dickens – A Christmas Carol, thought about Christmas.  Old and alone he was haunted by the ghost of his late business partner – Marley, who after pointing out his misery, showed him a better way and Scrooge ended up a happy man.  What is humbug, other than a stripped hot peppermint sweet.  The dictionary tells us – something intended to deceive, a hoax, a nonsense, hypocrisy.   In all not nice.  They were Scrooges memories of the past.
I too am old and live alone and as I sit pondering over Christmas of yesteryears, I have only fond memories of a loving Grandma and a happy home.  Christmas then and Christmas now are oh so different.  Then everything was low key, humble and simple.  There were no radio, TV, phones, motor cars, shopping malls or supermarkets.  We did our shopping at the corner shop and bought things as a penny worth of this and that and the other.  No refrigeration so food was bought on a daily basis.  The milkman came around more than once a day, pushing a barrow on which stood a milk churn.  You took a jug to the door and he would measure out half pint of milk by turning a tap.  I wonder if you are interested in all this, because, when I tell my son about it, he looks at me with a questionable look as though I am not all there!   Christmas started on Christmas Eve, with the family gathered for mince pies and carols around the family piano.  My earliest memory is of Father Christmas coming and I was so scared I got into bed with Gran.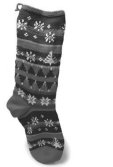 We hung up the socks we had worn through the day and in it we found an apple, orange, banana, 3 new pennies and one toy.  Today, the children hang up pillow cases and get bicycles, computers and play stations.  Christmas dinner was a family affair.  The table was set with what we called fairy lights, a little coloured glass dish in which was a night light.  This radiated a tiny bean of coloured light.  There was one at every place setting.  We also had ruby and white drinking glasses that were placed in alternate colours around the table.  Another thing of the past was custard glasses.  They were about the size of a tea cup on a short stem and a handle, also in ruby and white. You poured your own custard over your pudding.  In those days there were no exotic fruits and vegetables imported from overseas.  We only had the products of our own country, grown in season.  Therefore, there were no salads.  There was a hug joint of beef and Yorkshire pudding, not the little individual ones we have today. The batter mixture was poured into the baking tin, the meat was placed on a grid in the middle so that the juices from the meat dripped into the pudding.  The result was a large square pudding with high crisp sides and a delicious soggy middle.  Turkey was unknown.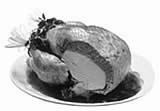 It was not until after World War I and the intervention of the USA that we became acquainted with the customs of that country.  They had turkey for their Thanksgiving day meal in November.  It was the Americans who introduced the Turkey to our Christmas dinner table.  There was no getting the dinner cleared away in time to listen to the King's speech – for one thing there was no radio, and the Royal family were very remote.  It was King George V who first broadcast a Christmas message in the later years of his reign about 1933.
We made our own entertainment during the evening, with party games, charades, sing song around the piano – everyone doing their own party piece.  Running buffet was unheard of, a mid evening meal was set, much like dinner, the meat was cold and we ate it with pickles. The 1914-18 war brought severe food shortages, because of the new weapon of war –  the German U Boat. The old style Christmas was gone, and as I look back – forever! There was a potato shortage and we queued up for hours for 2lbs of potatoes.  I remember having a baked rabbit and parsnips for Christmas dinner.  Perhaps that accounts for my dislike for parsnips now.  Pudding was without fruit and made with marmalade.  Next Christmas was even worse.  It was only because an uncle who was in the army and home on leave that he was allocated a small loin of pork.
The Second World War was even worse, because of the bombing.  Families were scattered.  My husband was in the army and I with my little girl of 18 months and my grandma were evacuated to Chesham, Bucks and lived in one room.  Father Christmas was able to bring very little, although I did manage to get a packet of Maltesers, costing 3d. (about  1 ½ p in decimal coinage)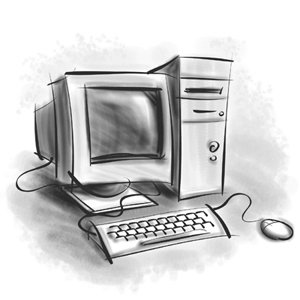 What an unbelievable difference to Christmas today.  Now we have an over abundance of everything and people seen to take it all for granted.  Shopping Malls are crowded with people spending money like confetti.  Shoppers with trolleys piled high with food enough to feed the 5000 – Paid for with a piece of plastic.  When we have eaten to capacity, we sit and watch TV – Oh dear!- where has Christmas gone.  We seem to have lost our way, got our priorities wrong.  Oscar Wilde once said 'A cynic is a man who knows the price of everything and the value of nothing'.
I think if Scrooge were here today he would still say Humbug.  I think Christmas today for some is not only humbug but cynical to boot.  We need somebody such as Marley's ghost to be able to bring us back to reality.  Back to basics as a former Prime Minister told us to do – morally, spiritually, in every walk of life.