Royal visit for Canvey
Castlepoint Yellow Advertiser June 2008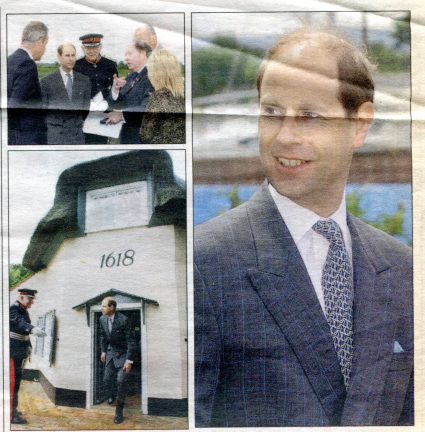 PRINCE Edward came to Essex to visit a number of Canvey landmarks last week. The Earl of Wessex was given a tour of the island before enjoying lunch in the Labworth Cafe, in Western Esplanade.
The Royal guest's first visit on Friday was to Canvey Junior School, in Long Road, to help pupils bury a time capsule.
Mick Cerson, direc­tor of TEC Marina, said: "Everyone got the chance to meet him and they were starstruck. We took him out on two vessels and the owners also got to shake his hand.
"It was an excellent visit and Prince Edward was very chat­ty and seemed inter­ested in our work."
The Dutch Cottage Museum, Canvey flood defences and the boat builders TEC Marine Mouldings, in Canvey Marina, were also treated to a Royal visit.
The trip, hosted by the Lord Lieutenant of Essex and Castle Point Council Mayor, Norman Ladzrie, saw residents cheering as the Prince arrived.
Many locals waved flags in support of their guest.
Castle Point Mayor, Norman Ladzrie, said: "His Royal Highness was interested in the island and its people.
"I am proud he took the time out of his busy schedule to learn more about Canvey and its heritage."
Ray Howard, who showed Prince Edward around the flood defences, said: "I was honoured. These defences play a huge role in defending this island."
Many thanks to Ray Howard for passing the cutting to the archive