House of Rest at Canvey Island
Barking Advertiser July 1911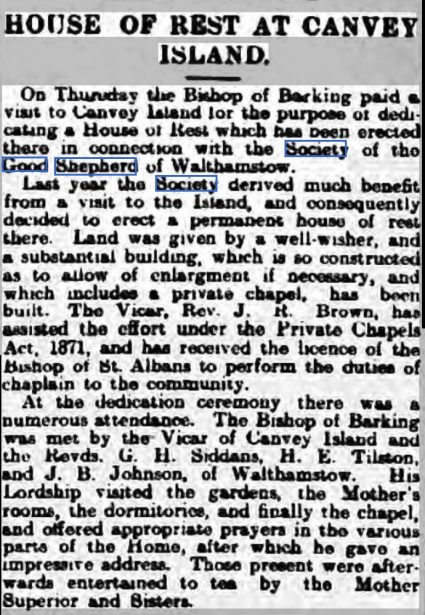 Published in the Barking , East Ham & Ilford Advertiser, Upton Park & Dagenham Gazette 1st July 1911
On Thursday the Bishop of Barking paid a visit to Canvey Island for the purpose of dedicating a House of Rest which has been erected there in connection with the Society of The Good Shepherd of Walthamstow.
Last year the Society derived much benefit from a visit to the Island, and consequently decided to erect a permanent house of rest there. Land was given by a well-wisher, and a substantial building, which is so constructed as to allow of enlargement if necessary, and which includes a private chapel, has been built. The Vicar. Rev. J. R Brown, has assisted the effort under the Private Chapels Act, 1871, and has received the licence of the Bishop of St Albans to perform the duties of chaplain to the community.
At the dedication ceremony there was a numerous attendance. The Bishop of Barking was met by the Vicar of Canvey Island and the Revds. G. H. Siddans. H. E. Tilston. and J. B. Johnson, of Walthamstow. His Lordship visited the gardens, the Mother's rooms, the dormitories, and finally the chapel, and offered appropriate prayers in the various parts of the Home, after which he gave an impressive address. Those present were after­wards entertained to tea by the Mother Superior and Sisters.