The original site of the Convent was Vaagen Road. Later the Convent was rebuilt further to the South and the entrance is now in Lionel Road opposite Convent Road. The original site in Vaagen Road is now St Joseph's Infant's and Junior School. Convent Road was in existence in 1919 according to the Essex Record office. They hold the building plans as follows:
Building plan: Bungalow, CONVENT Road, Long Road Estate J.W. Wiles, esq. (Owner) E.E. Lawrence, CANVEY Island (Architect) Approved 1919 [Application Form missing]
In Robert Hallman's book 'Canvey Island a History' is a short paragraph about the convent: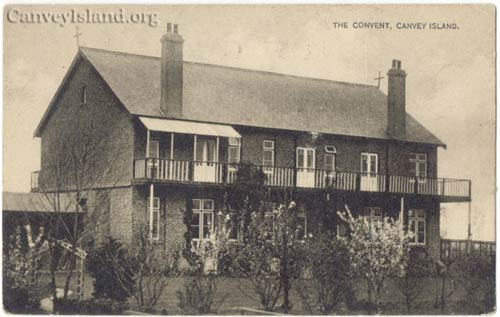 A convent was established in a bungalow in Vaagen Road, Oysterfleet. Urban District Council records name the owner as 'Revd. Mother Superior, The Convent, Canvey'. The Bishop of Chelmsford consecrated a chapel of the Community of the Good Shepherd in 1924 and the Rev. A. W. Cotton was appointed chaplain. The convent advertised in the parish magazine: 'The Sisters will be glad of orders for work – frocks, coats, hats, fancy bags, etc. Also for orders for toffee, coconut ice and other sweets. Prices on application'.
If anyone can add more details please comment below.