Joos Croppenburgh
Haberdasher, Merchant and Entrepreneur
Thanks to my friend in the Netherlands information is slowly coming in that is likely to be our Joas Croppenberg but we cannot conclusively say it is. Croppenberg (including all the variations of the name) is a fairly uncommon name. With lots of the documents etc that are being found there is no indication as to the age of the person which makes it very difficult to be sure we are finding the right person. We believe Croppenberg was born before 1574 probably in Gulick, (which was part of the Netherlands at that time but now in Germany. There are known to be Croppenbergs around Axel in Zeeland. In 1594 a Joos Croppenburgh agrees to live in Cologne to buy pots and transport them to London.

The marriage of Joos Croppenbergh to Catherine Hauwe in 1614 looks very promising as we know from other books and documents his wife's name was Catherine and the year fits in well.
We also know that he married the great niece of Cornelius Vermuyden. She was Mary daughter of Johan who was the son of Cornelius' brother Bartel. When this was we do not know.
In 1907 the Huguenot Society published the 'Returns of Aliens in London 1598-1625'. In 1617 we find at Freshwarf,  Joos Croppenbergh, Catherine his wife, three children borne here.
This is likely our Croppenberg especially when you look into where Freshwarf was situated plus the fact he was a merchant.

If you look at the map below you will see that it is a plan of Fresh Wharf (East of London Bridge) dated 1857 obviously much extended since the 1600s but according to the book above it is the area where Joos and family lived in 1617. This very much fits in with what we definitely know about our Joas Croppenberg. In 1623 he was known to be a rich Haberdasher/Merchant who resided in Cheapside. Cheapside is not far away to the North West of this site so perhaps he had just moved up the road to a better property away from the hustle and bustle.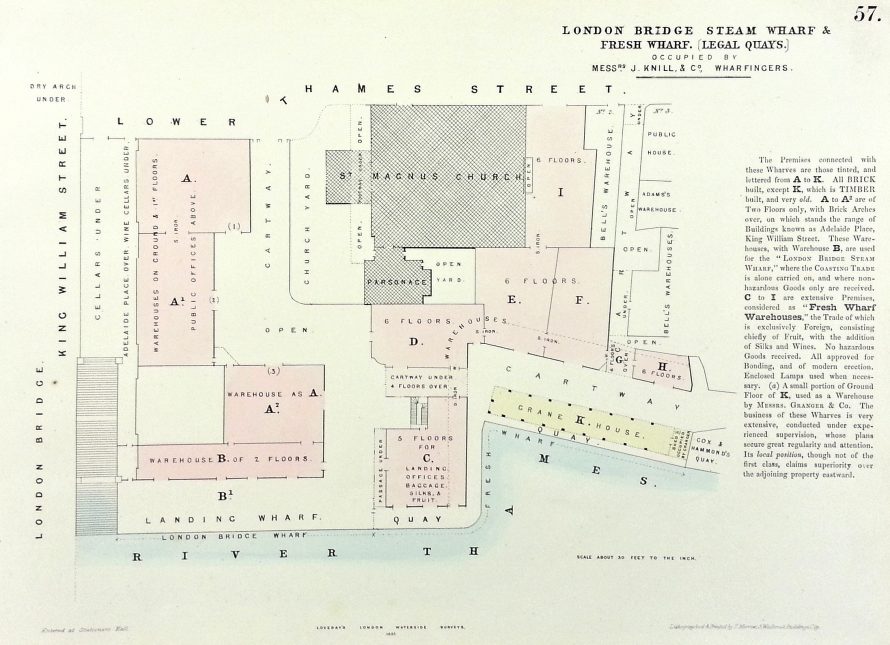 In a VOC (Dutch East India Company) resolution dated 16-11-1617, Joost Croppenburgh and son were made 'correspondent of the VOC in London'. Before, one Jan Abeels had been correspondent at a salary of 200 Dutch guilders per year. He was succeeded by Christian Gabri, no salary mentioned, who was succeeded by Croppenburgh & son, and upon senior's death, the son was to succeed him.
However, Joos junior was dismissed, for 'disfunctioning'.
There are some interesting reading from the East India Company Minutes from 1623 and 1624 relating to Joos Croppenburgh and son. Click on the pictures below to see enlargements.
About the same time that Croppenburgh was negotiating the inning of Canvey Island he was doing similar work at Lesnes Abbey in Kent. Description and history quoted from ucl.ac.uk
Lesnes Abbey was founded in 1178 by Richard de Lucy. At that time it may have been directly accessible by boat. Built of stone from Normandy, it is now very much a ruin with most of the stones sold for building material after its suppression in 1524. Please do not interfere with this ancient monument.
The abbey lies about 15m above sea level and good views can be had across the Thames floodplain. The marshland was owned by the abbey and the need to repair dykes and river walls partly explains why it was never a wealthy abbey.
In 1279 the abbey enclosed and drained (inned) most of their marshland between here and Crossness, and the rest 12 years later.
Between 1515 and 1551 the river banks were breached several times and some 2000 acres flooded. At this time a number of extra banks were built at right angles to the river bank so as to link it to the high ground and divide up the drained marshes. The bank which the Green Chain Walk follows north from the railway is based on one of these banks, Gravelly Wall. The last 550 acres or so of these flooded marshes were not recovered until 1623 by the Dutchman Joas Croppenbergh. He was paid by being given half the reclaimed land. All these marshes were again flooded by the great surge tide of 1953.   
Much of the ground between Lesnes Abbey and the main road has been built up to a higher level as is clear from the form of the footbridges over the road and railway. The early Thamesmead houses built in the 1960s and 1970s were on concrete platforms to keep them above flood-levels. Examples of this "town on stilts" can be found in Rushdene Road on the north side of the railway. 
So it would appear that Joas Croppenberg had his fingers in lots of pies. I suppose we would call him an entrepreneur today.