Captivating Canvey Residents Guide Book
by Lucy Harrison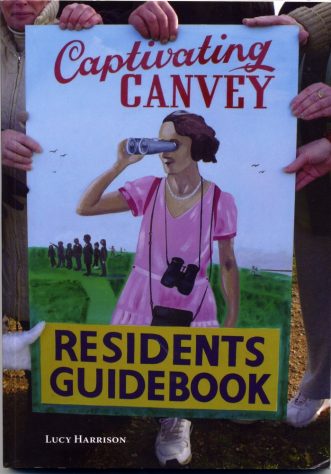 Canvey Guides was an art project by Lucy Harrison which took place between September 2006 and March 2007 part of 'Art U Need; An Outdoor Revolution'.
Part of the project was the reformation of 'The Rendevouz Club' that existed on the Island many years ago. The Rendevous Club meets on the first Sunday of every month for a walk around Canvey Heights and different parts of the Island.
Lucy also collected lots of stories from older residence of the Island and together with different walks produced this book which is still available from us for £2 a copy. Look out for us at the library, our meetings and when we are out and about at events such as at the Transport Museum.  Well worth a read.
This was my personal contribution to the book:
Fond memories of Canvey Tip!!!!
by Janet Penn 
On a Sunday afternoon in the spring of 1993 or 4 I found myself sitting in the Castle Point Mobile Volunteer Bureau's vehicle (an old ambulance) outside Canvey Tip.  Why was I there?  I later asked myself that very question.
As a founder member of the Volunteer Bureau I was asked if I could help out with the Mayor's Charity Walk.  The Mayor has a walk round part of the sea wall starting and finishing back at Waterside Sports Centre, every spring to raise money for their chosen Charity.  As my children were being sponsored to join in the walk I said 'yes what can I do to help?'
They needed me to sit in the Mobil Volunteer Bureau's vehicle parked outside the tip during the walk offering drinks and help to anyone that needed it.  I thought 'I can do that no problem'.  Famous last words!
The vehicle was duly parked with me on board at the gates to the tip.  I had studying to do so was quite happy sitting there reading until the walkers started to call in.  After the last of the walkers had passed me the weather started to get worse.  I had a while to wait before anyone would be in a position to collect me.
I was not worried at first but as the hours ticked by and the rain fell and the wind howled I began to feel I had been forgotten.  If only we had mobiles in those days. After several hours not seeing a sole, with no toilet, unable to drive with a long walk in the wind and rain as the only alternative I was beginning to panic.  At last someone arrived.
Yes they had all forgotten me.  They had all been at Waterside eating and drinking, in the dry, out of the wind and they had toilets.  Not giving me a thought.  This included my children I might add.
Soon after the tip was closed for good.  Later being transformed into Canvey Heights.  I just hope my first visit is less stressful.