Kings Gift to Canvey Widow
Essex Chronicle 1911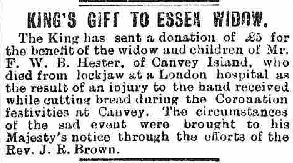 Although we knew that FWB Hester (that is Frederick William Brewster Hester son of the entrepreneur Frederick Hester) died in 1911 in some kind of accident we did not know the full story of the event. Today I found this in the Essex County Chronicle dated 1911 which tells the story for us.
~~~~~~~~~~~~~~~~~~~~~~~
The King has sent a donation of £5 for the benefit of the widow and children of Mr F.W.B. Hester of Canvey Island, who died from lockjaw at a London Hospital as a result of an injury to the hand received while cutting bread during the Coronation festivities at Canvey. The circumstances of the sad event were brought to his Majesty's notice through the efforts of Rev. J R Brown.
~~~~~~~~~~~~~~~~~~~~~~~
Chelmsford Chronicle earlier reported
An Essex Auctioneer's Sad Death
Fatal Bread-cutting at Coronation Fete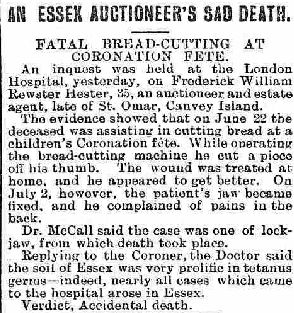 An inquest was held at the London Hospital yesterday, on Frederick William Brewster Hester, 35 an auctioneer and estate agent, late of St Omar, Canvey Island.
The evidence showed that on June 22 the deceased was assisting in cutting bread at a children's Coronation fete. While operating the bread-cutting machine he cut a piece off his thumb. The wound was treated at home, and he appeared to get better. On July 2, however, the patient's jaw became fixed and he complained of pains in the back.
Dr McCall said the case was one of lockjaw, from which death took place.
Replying to the Coroner, the Doctor said the soil of Essex was very prolific in tetanus germs–indeed, nearly all cases which came to the hospital arose from Essex.
Verdict, Accidental death.
~~~~~~~~~~~~~~~~~~~~~~~
FWB Hester left wife Elizabeth and two boys Garnet and Victor both of whom went onto serve during WWI and are featured on the site.